Fun, quick and uber-easy! Crochet the Stabby Granny Gloves from the SFMGS x Make.e Stabby Granny Square CAL with Paintbox Yarns at +LoveCrochet.com !!
Wow, I am absoloutely loving all the Stabby Granny squares that have been jumping out at me in my Insta feed from you amazing lot. It seems you have found them as addictive to make as Miki and I.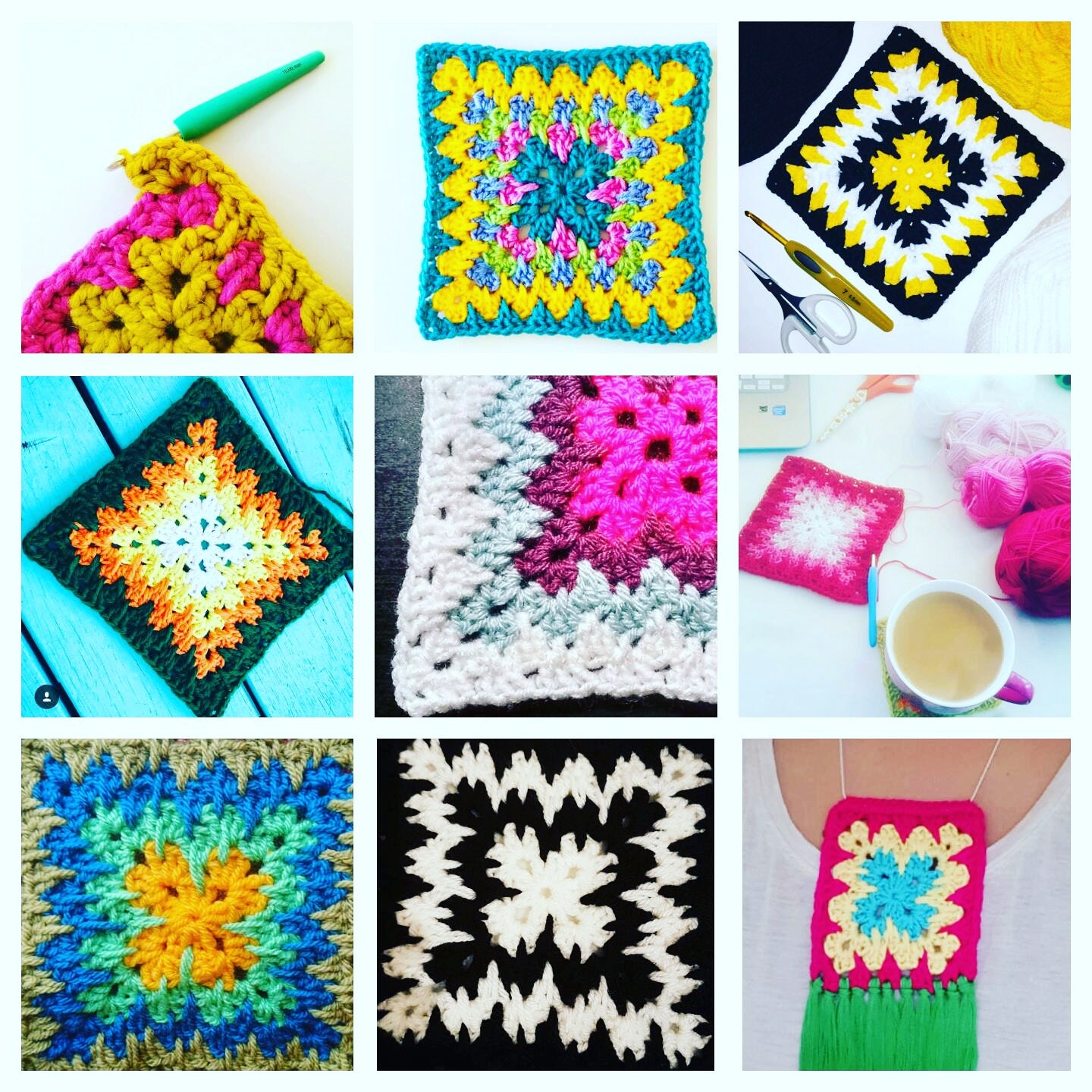 So now what? you have a hand full of squares, which of course you love and can't stop squidging (because they are soooo smooshable) .
Well you have 2 options.... and just in time for... *puts on deep booming voice* THE BIG CHILL... Miki decided to make her squares into a gorgeous statement cowl which you can find here SFMGS COWL PATTERN.  And because I am very impatient and love a super quick make, I made mine into mittens. The Stabby Granny is perfect for both projects because the fabric works up thick and cozy. Of course you don't have to choose you can do both, we'd love it if you did. 
So here is my part of the CAL.... 
Stabby Granny Gloves…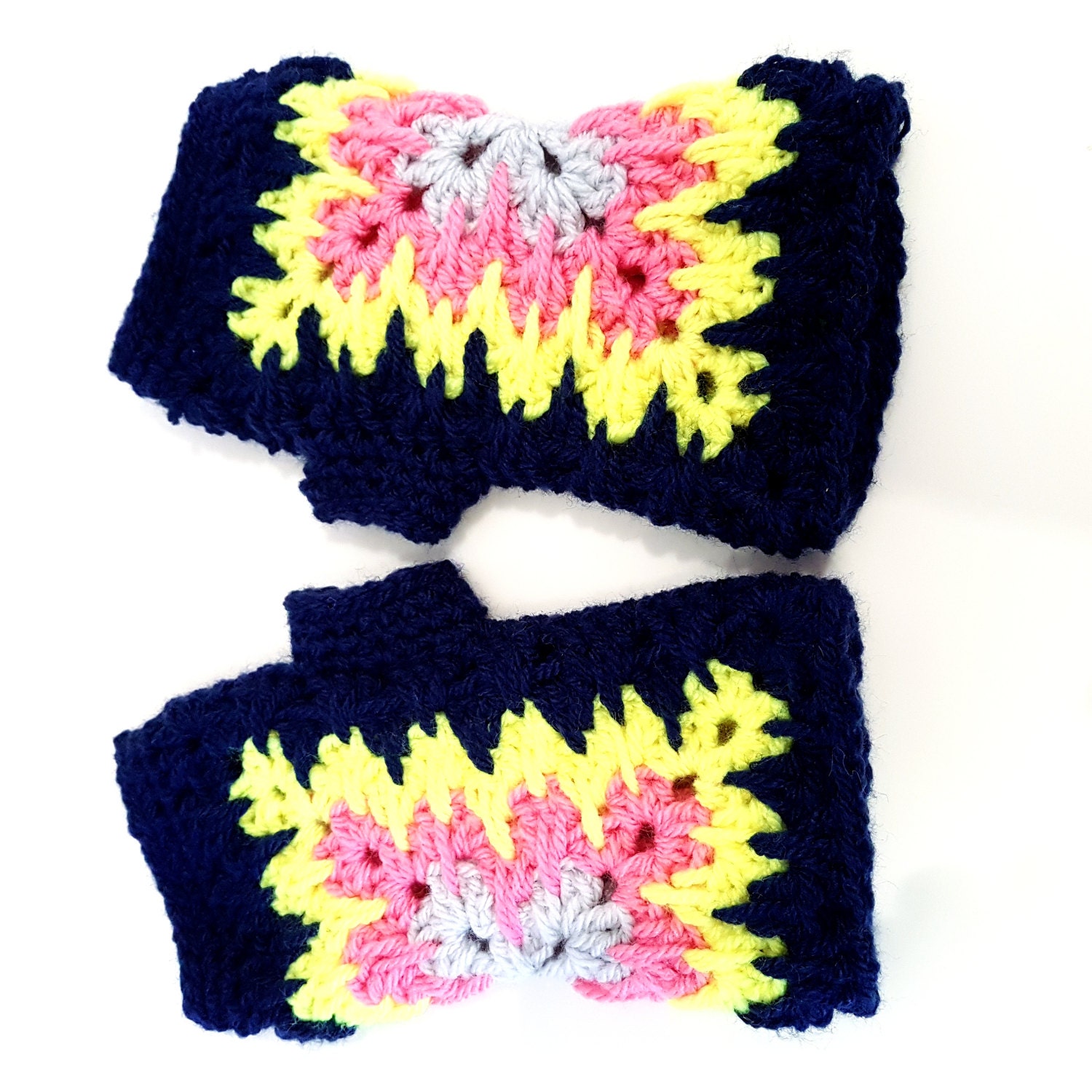 For the gloves pictured above I used Paintbox Yarns Aran
Colour A: Misty Grey
Colour B: Bubblegum Pink
Colour C: Neon Yellow
Colour D: Midnight Blue
Size 4.5 mm hook
Scissors
Needle or hook to sew in ends
You will need 2 Squares to make your gloves which you can find here on my other blog post Stabby Granny Square (one for each hand). Do below for both squares.
1. Take your finished square and fold it in half with the right sides together.  
2. Line up your stitches, join yarn (Colour D) into both ch2 corner spaces.  
3. DC into the following 6 stitches, joining the 2 halves as you go.  
4. Now working only in the front half ss into the next 6 sts, this will make your thumb hole.  
5. Make sure you skip the 6 stitches in the back half to allow for the thumb hole, line up your stitches again and dc into both halves to the end and into the 2ch sp.  
6. Cast off and weave in ends.   
Top: 
Turn glove right side out, attach yarn (colour D) to any st sp at the top of the glove. Dc in each st around, ss to join, ch 1, dc in each stitch round again, ss to join, continue to ss for a full round, cast off and weave in your end.   
Thumb: 
Attach yarn (colour D) into any st sp in the thumb hole.  
ROUND 1 -3: ch 1, DC into each st around, ss to join. 
ROUND 4: SS into each st around, cast off and weave in ends.  
Now why not complete the set by making Miki's Uber Cool Cowl, you can find her pattern here STABBY GRANNY COWL.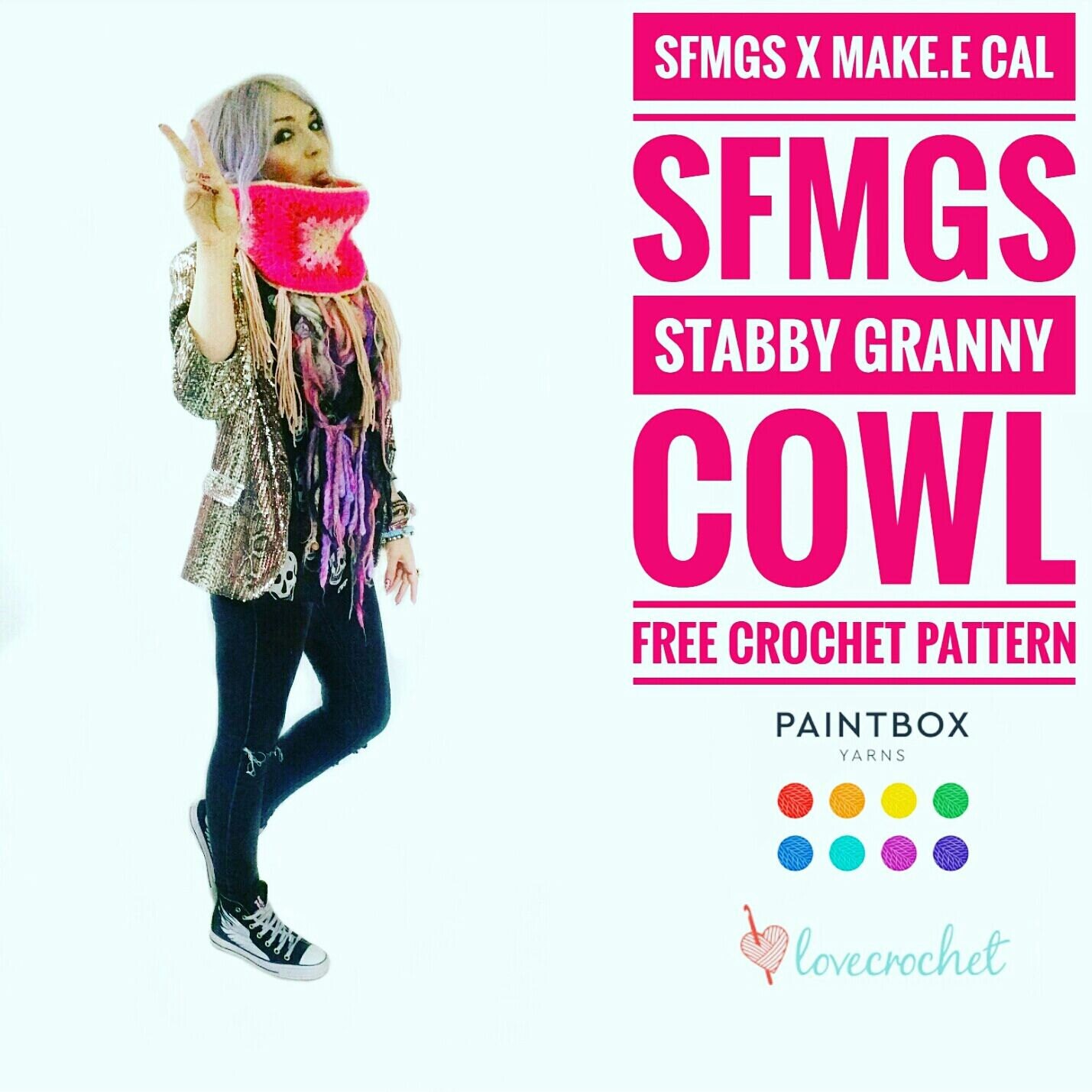 We really hope you have enjoyed our Painbox Cal, it's been really fun putting it together so please share on Instagram by tagging us @make.e or @setfreemygypsys0ul or using the hashtag #stabbygranny.