Since discovering bobbiny cotton rope I have been having a love affair with cotton yarns in gerneral. This is BIG, until recently I hated using cotton, I found it annoying, fiddly and splitty. Bobbiny rope was a great gateway yarn if you like, it's super chunky (I use the 5mm for my moon bag pattern) so that scraps the fiddly bit off my hate list. It's rope so it can't split, another pet hate scratched, and it is far from annoying. It glides over the hook making it a complete joy to use and the results are STUNNING. I got a bit addicted to making the moon bags in the bobbiny and as a result I was left with what I felt at the time to be an awkward amount of left over yarn. Too much to just chuck out but not enough to make another bag or plant hanger... It wasn't until I made a bag for a lady I follow and LOVE on Instagram Lisa @mummypiggles when I also wanted to send her girls a gift too, so I made a rainbow pen pot for them with the left over yellow bobbiny and rainbow pompoms.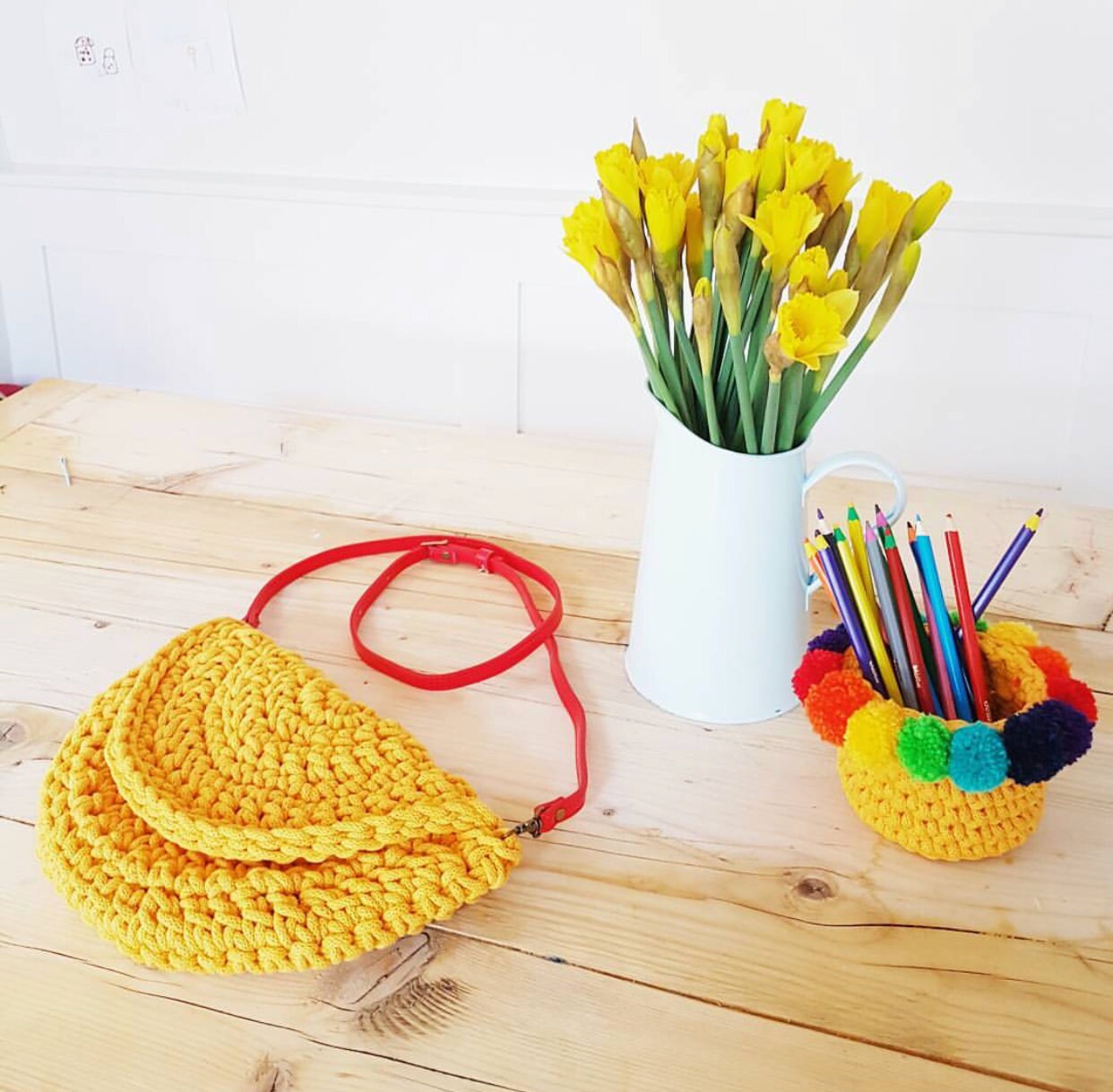 Then I realised that all you wonderful lot who have made a moon bag will too have some left over, so here is my bog standard basic mini basket pattern so there will be NO WASTE. Use it for your pens, makeup brushes, hook pot, plant holder, nik nack holder.
Left Over Moon Bag Bobbiny Basket   
Using a size 10mm hook and 5mm bobbiny cotton rope.   Abbreviations:
 st = stitch 
sts = stitches 
ch = Chain
ss = slip stitch 
dc = double crochet   
BASKET 
ROUND 1: Magic loop, ch 1, 7 dc into magic loop, close loop, ss into 1st dc to join. (7 dc made) 
ROUND 2: ch 1, work 2dc into each dc st, ss to join (14 dc made) 
ROUND 3: ch 1, *work 2 dc into 1st dc st, work 1 dc into next dc st*, Rep from * around, ss to join. (21 dc made) 
ROUND 4: ch 1, 1dc into back loop all the way round ss to join. (21 sts) Turn work inside out so your hook is working from the outside in for next round. 
ROUND 5 - 9: ch 1, dc in each st all the way round, ss to join. Cast off and weave in the ends.   
Finishing: Add mini pompoms or tassels to complete the look.