If you have been following me on instagram you will have been inundated with posts and stories of my weekend workshop spent making a pair of flats with i can make shoes. 
Let me start by telling you why I felt the urge to try shoe making. Obviously I love making all things so y'know a shoe making course is always going to be a yes from me, but shoe making is also in my blood. My grandfather was a cobbler, he used to fix all his neighbours shoes in his street, during the 2nd world war while my grandmother and mother evacuated to the countryside, my grandfather was posted to Africa where he made boots for soldiers. It is something that has always intrigued me. What an amazing craft to have learnt, unfortunately I was only 6 when he passed away and never got to learn from him what all those amazing looking and smelling tools were in his shed and what they did. 
So quite a few years back ( I want to say before kids, but I can't be sure) I saw that there were shoe making workshops running in London... I mentally put a pin in that and dreamt of a day when I might be able to go on such a course. 
Finally the timing and opportunity came up and I immediately booked myself onto what I now know to be the greatest workshop EVER!.
There are many courses that 'i can make shoes' offers from short weekend sandals and flats courses to full 10 days of mastering footwear where you can make between 4 - 8 pairs of shoes!!! The details for all the courses can be found on their website www.icanmakeshoes.com. 
I opted for the weekend course to make a pair of fabulous flats, I LOVE ME SOME FLATS. Booking was super simple and shortly after I booked I received an email asking what kind of shoe I thought I might like to make. I told myself to keep it simple and replied saying a variation on a ballet pump please. I then hurled myself at pinterest to put together a board of any flats I liked the look of for inspiration, which turned out to be a very good idea.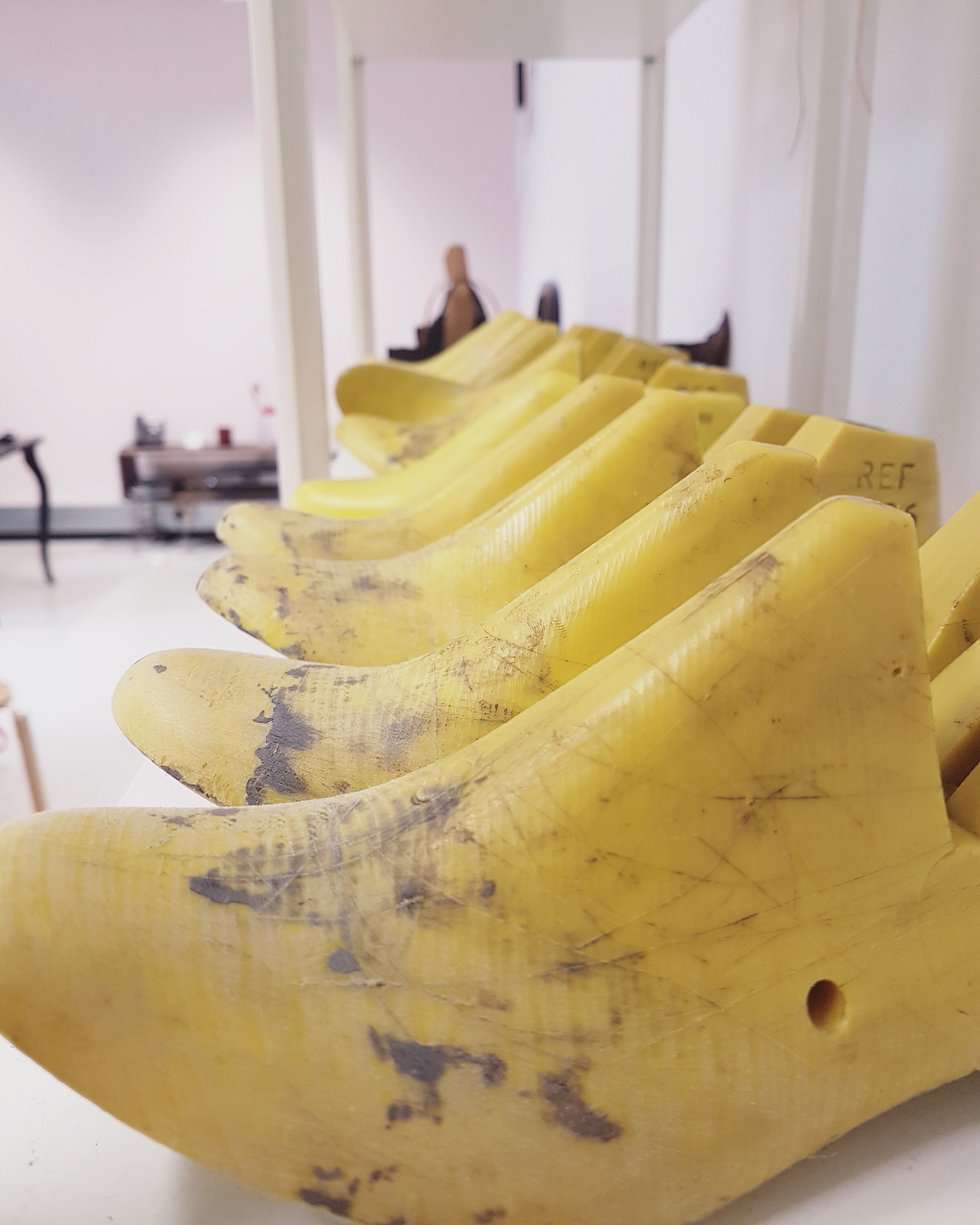 The day finally came and off to London I went, eager, nervous, excited and not knowing what to expect. I arrived to a very warm welcome from Amanda (who I will tell you much more about later) and myelf and Hayley, my workshop buddy, were taken to the studio. Top tip, if you do decide to go on one of these courses, take a moment to appreciate to beautifully heady smell of leather when you first walk in, it is second only to the smell of walking through a Morrocan souk. It is quite something to be greated by rows and rows of lasts, the foot shaped mould you will use to build your shoe around, swiftly followed by leathers of all shapes, sizes, thickness and best of all COLOUR! There is no hanging around, we get straight business talking about what kind of design we have  mind, there is a very good reason for this, your choice of leather is wholey dependent on the type of design you choose. I piled all my fave prints, colours, and textured leathers up worrying that I would never be able to narrow down my choice for my final design. However once we talked about seams, bulk, structure and style I was quickly left with just a couple to choose from.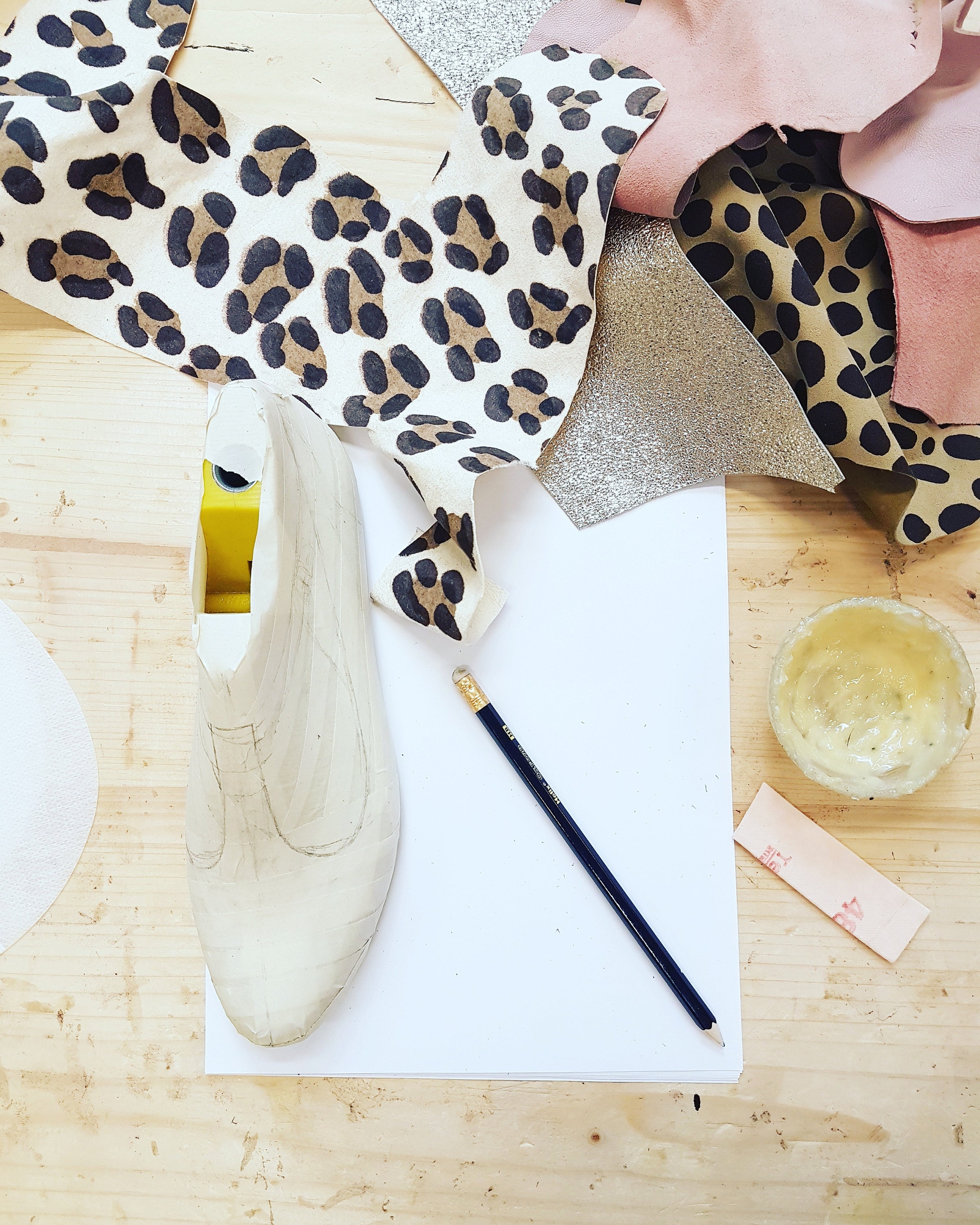 Now here is the really exciting bit, the shoes we designed were our own designs! I was half expecting to be choosing from a template and adapting it to add my own flair. Nope, you draw your shoe design directly onto the last, which has been covered in masking tape. There are some proprtion pointers and tips to follow but really the rest is totally up to you, restricted only by time you can pretty much create anything you wish. I knew that I wanted to create a T bar design with a strap coming from the heel, but like all creative processes designs and ideas can evolve and change. Amanda saw that I wanted a strap to go through my T bar design, we discussed the lengthy process of straps, so to help maximize my time we cut out the heel so I wouldn't find myself with too much to do. This made for a really exciting design feature on my shoe, a sling back that didn't join, instead turned into straps that continued round my ankle to buckle up on the outside.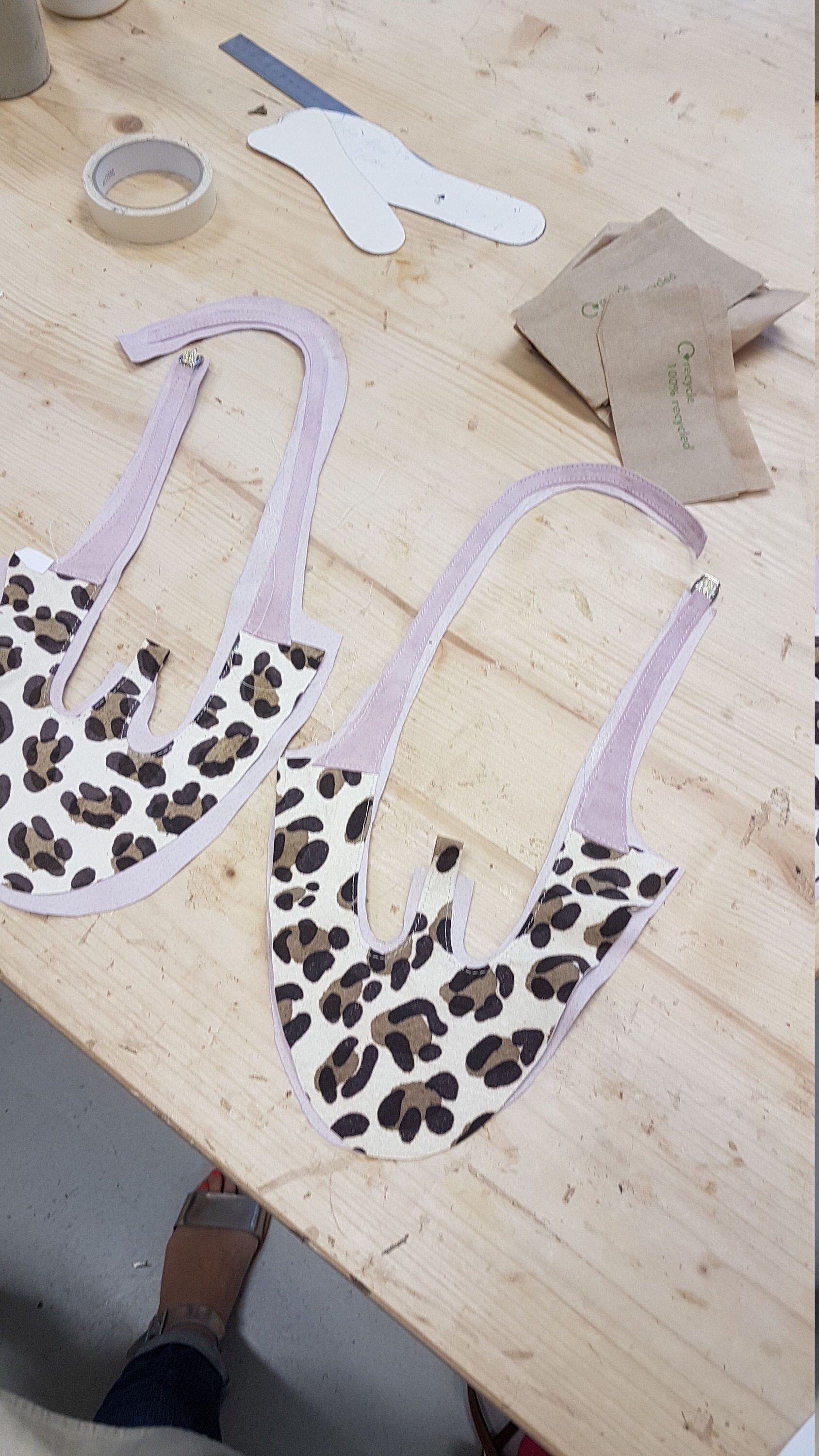 Once your design has been drawn out you cut away the parts not included and peel them away from the last. Next you peel away your design and lay it onto paper. This is where if you are a sewer things start to make more sense. All seam allowances are added and the pattern is cut out again. From here on it's cutting out uppers and lining from your own pattern, gluing and machine sewing all your pieces together. Glueing lining to your in sole that you make yourself, toe stiffeners added, uppers glued down, and soles made and stuck to the bottom. This is obviously a very quick over view of the whole process, mainly because I don't want to ruin it for you if you do get a chance to go and make your own. The process of making something is the best and most enjoyable bit, even if in parts I held my breath with fear.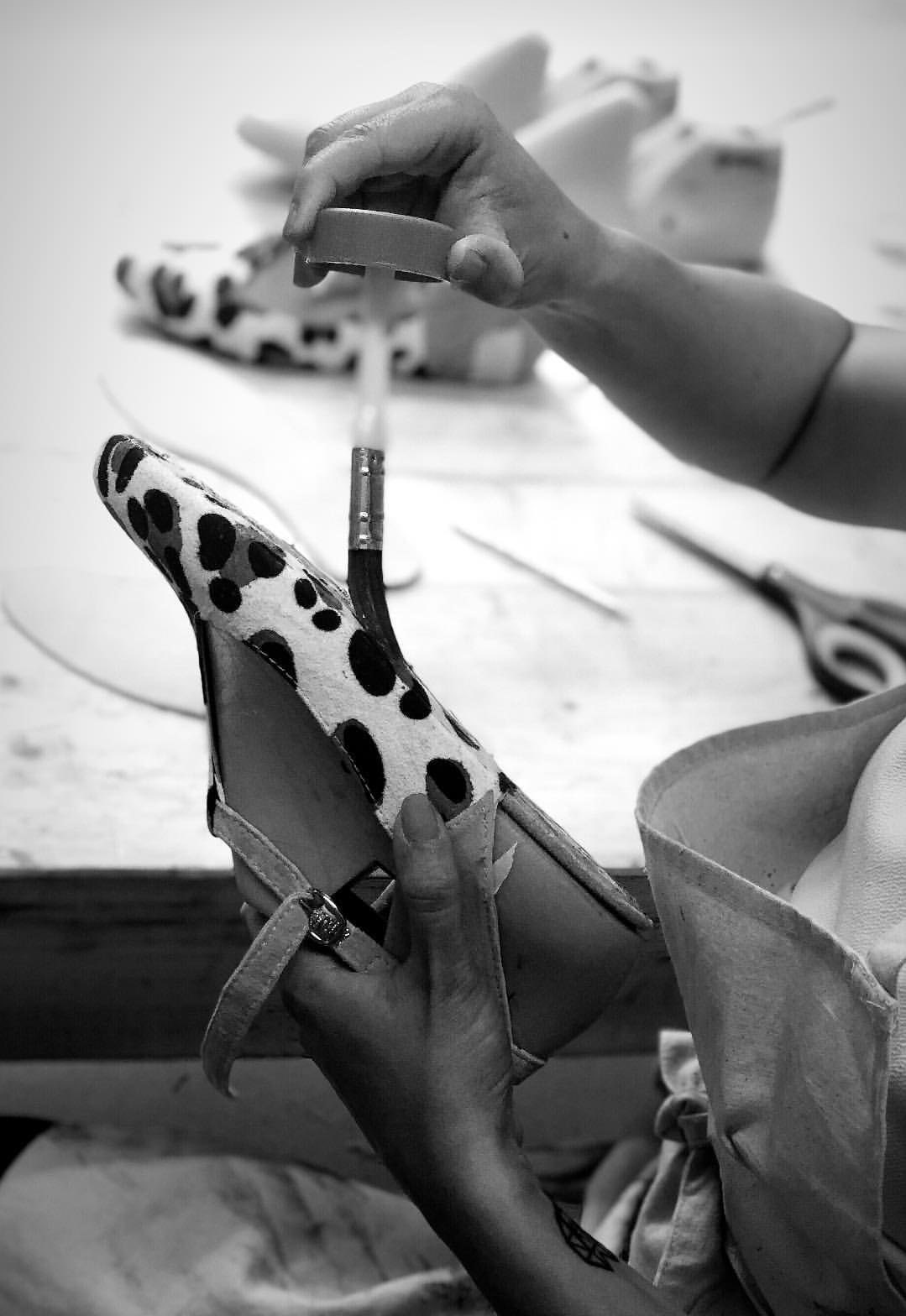 So whilst we are squeeling with delight at each stage of this course we are finding out about Amanda and her back ground. Amanda is quite an inspiration. She set up i  can make shoes after leaving uni. Amanda studied shoe making and after leaving university was frustrated that she was unable to continue her passion without having access to the traditional machinery she was taught to use. What is incredible is that Amanda didn't let this stop her, she developed her own way to make the shoes she loved from the comfort of her home. She quickly realised that shoe making was now accesable to anyone and taught people out of her living room. The proccess continues to evolve as new technologies and products come to marker that help Amanda and now Beatrice to teach from their super cool London studio.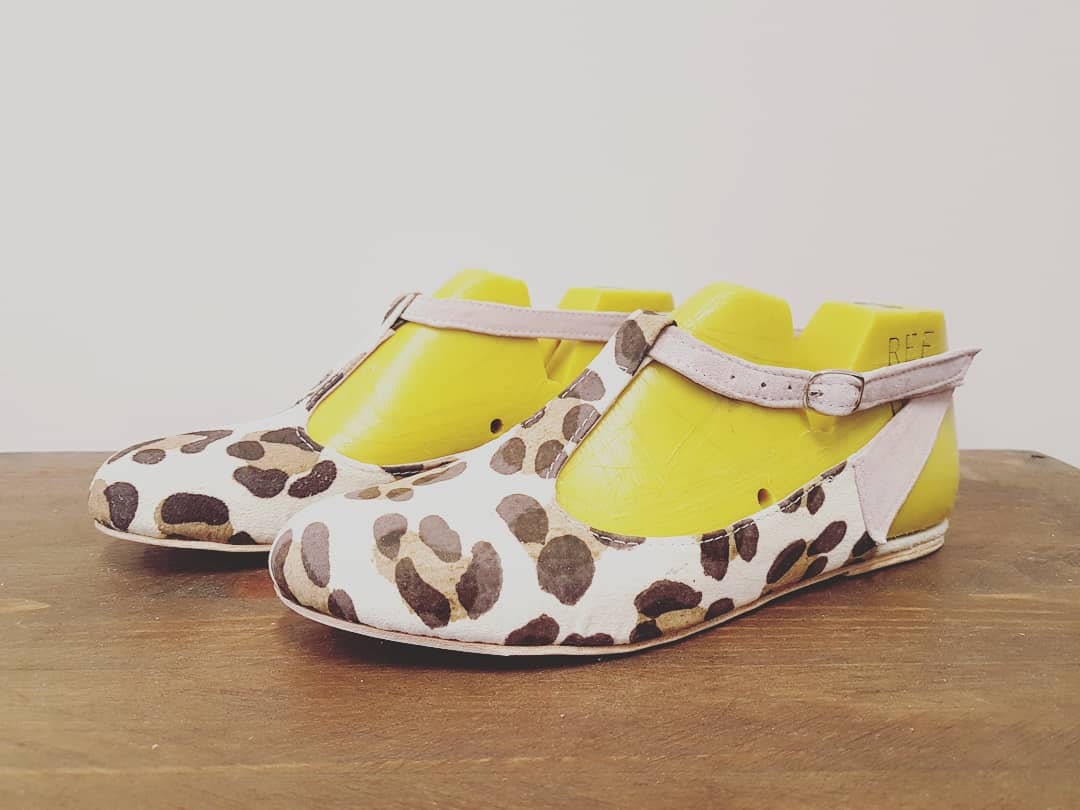 I came away from both days bouncing off the walls, still in shock that I really could make actual real life beautiful wearabe shoes with affordable materials that I can pick up easily online or from hardware stores. I know that Amanada and Beatrice are moving location to a new studio soon, and I am already trying to work out how many hooks I would need to sell to get me onto another course as soon as they move. I can not recommend this course enough, you will not be dissapointed. Shoes not your thing? then there are also bag workshops. In the U.S? They even run courses in New York....
Everything you need to know can be found on their website www.icanmakeshoes.com