OK, so I am pretty desperate for winter to bugger off now! I'm already dreaming of spring outfits, warm woolies and turn up jeans. My all time fave pair of ripped jeans always come out in spring, they are just too cold for winter. 
Now I'm not sure if this has happened to you, but a couple of years ago disaster struck. My fave ripped jeans with the perfect sized rip at the knee decided to split right down my leg!!!! They were headed for the bin when I had a light bulb moment and decided to save them with crochet. At the time I didn't know how they were going to turn out but I had nothing to loose right. I sewed up what I could roughly leaving the freyed seam visable to the outside and went about hooking over the gap. The result was much better than I had hoped, I have been asked LOADS how I did it, so when the stitches finally started to pull away I decided I would do a blog tuorial.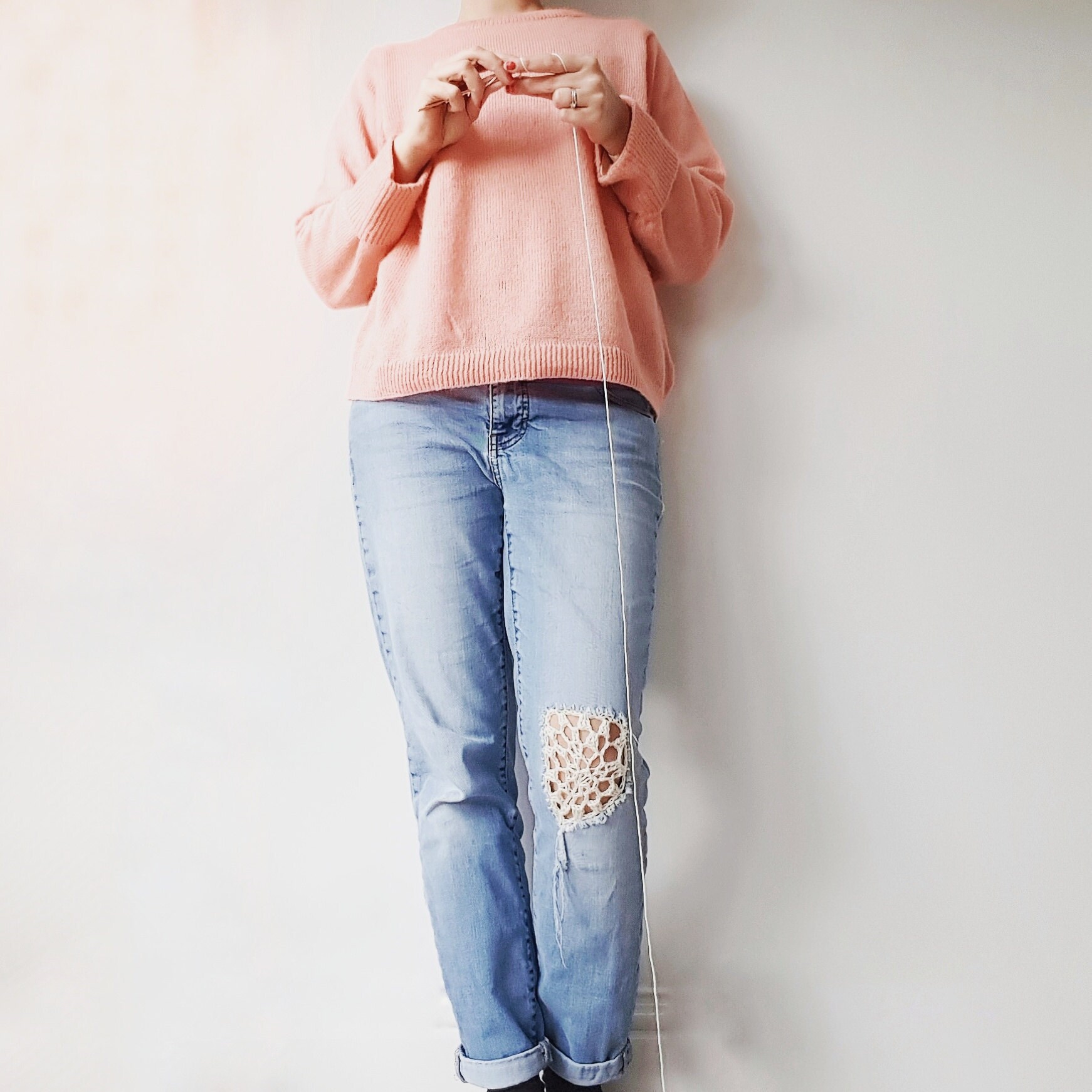 You will need:
Jeans with a ripped hole of any size!
4 ply or sport weight cotton (dk will also work but the results are chunkier)
3mm hook
scissors
darning needle.
Abbreviations:
ch = chain
dc = double crochet (US single crochet)
tr = treble crochet (US double crcohet)
ss = slip stitch
To start, using your needle and a length of your chosen yarn blanket stitch around your ripped hole to give you a base to crochet off from.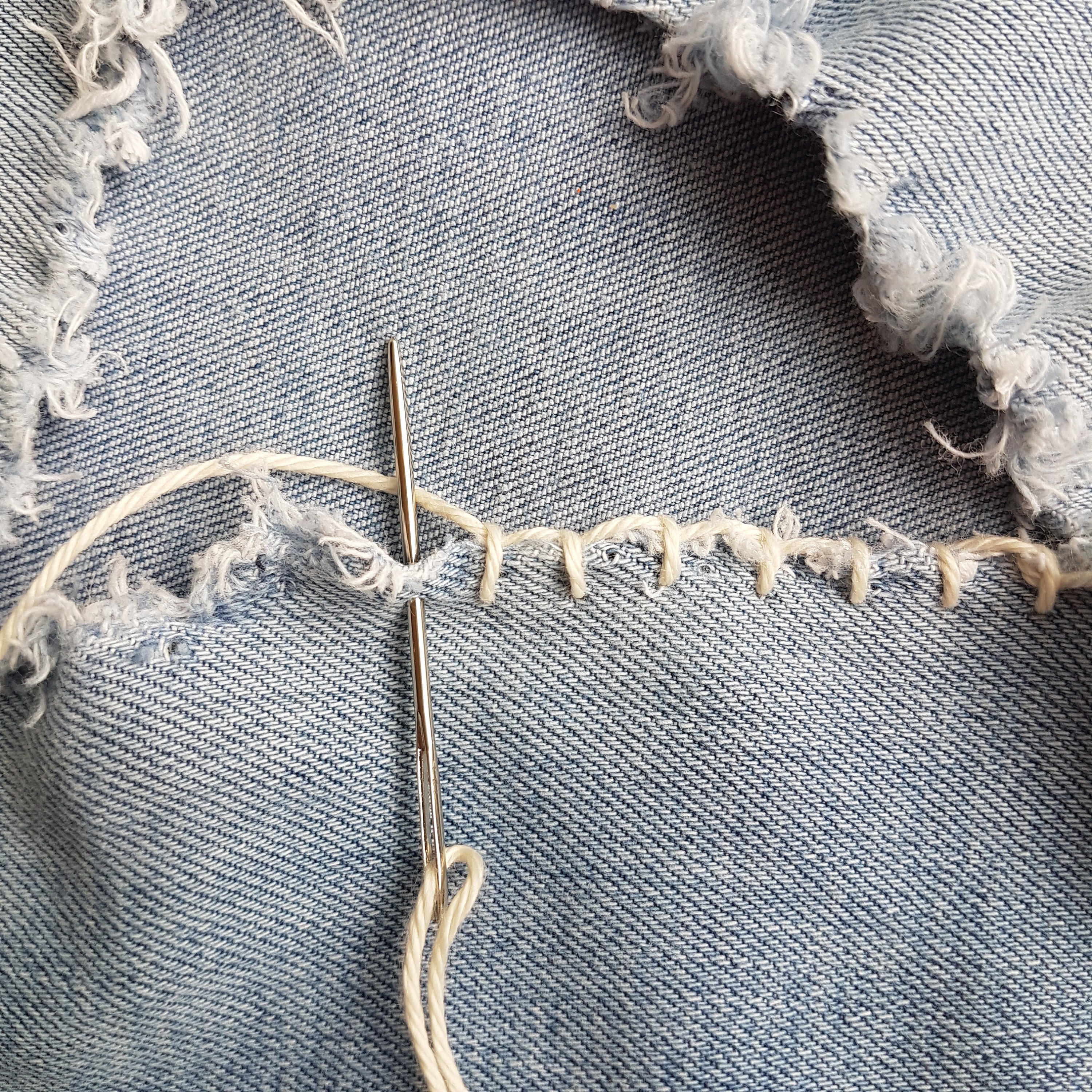 once you have blanket stitched the whole way round, secure the thread, cast off.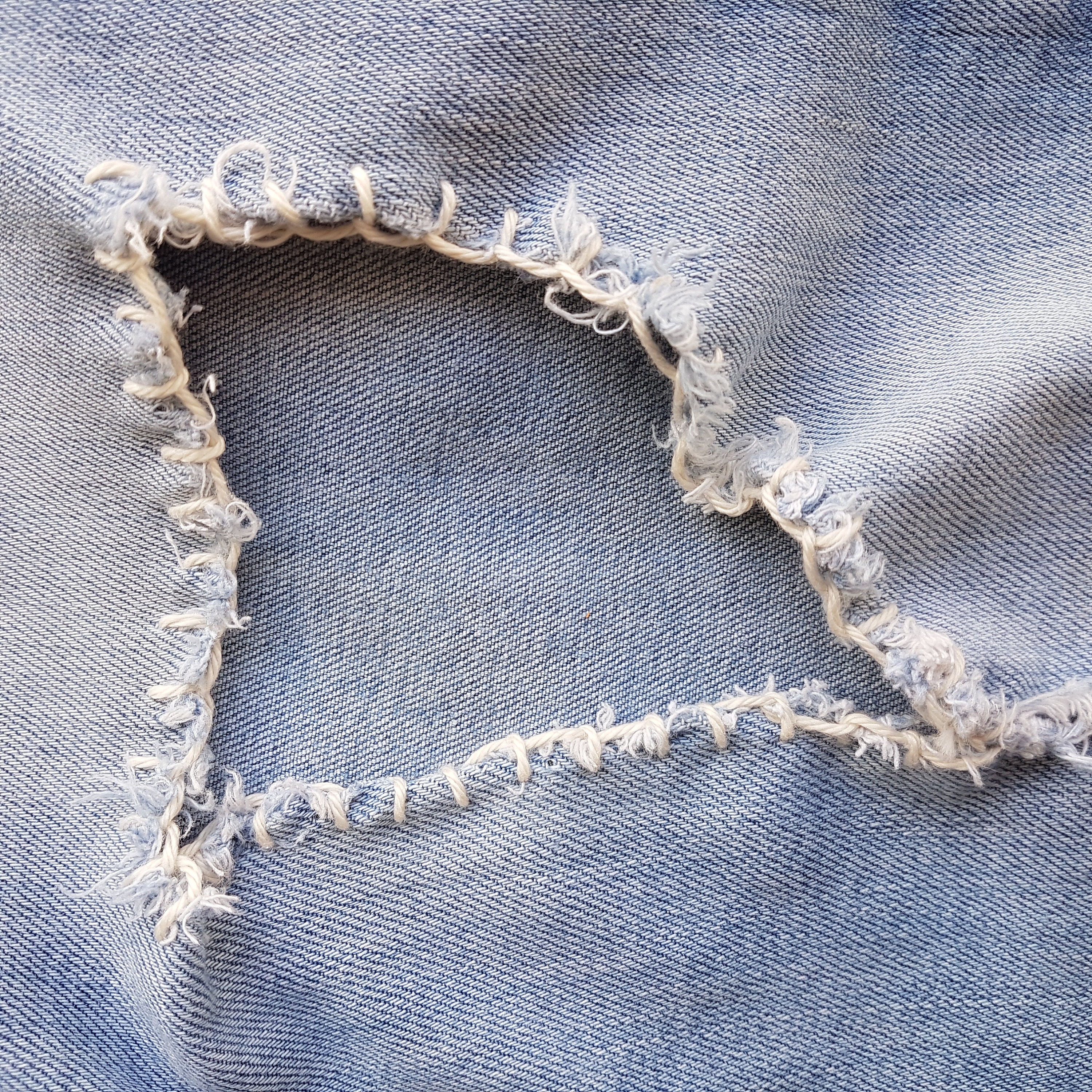 Attatch your yarn to any corner blanket stitch (or natural nook) of your hole.
Using your 3mm hook, dc in each stitch around, ss to join.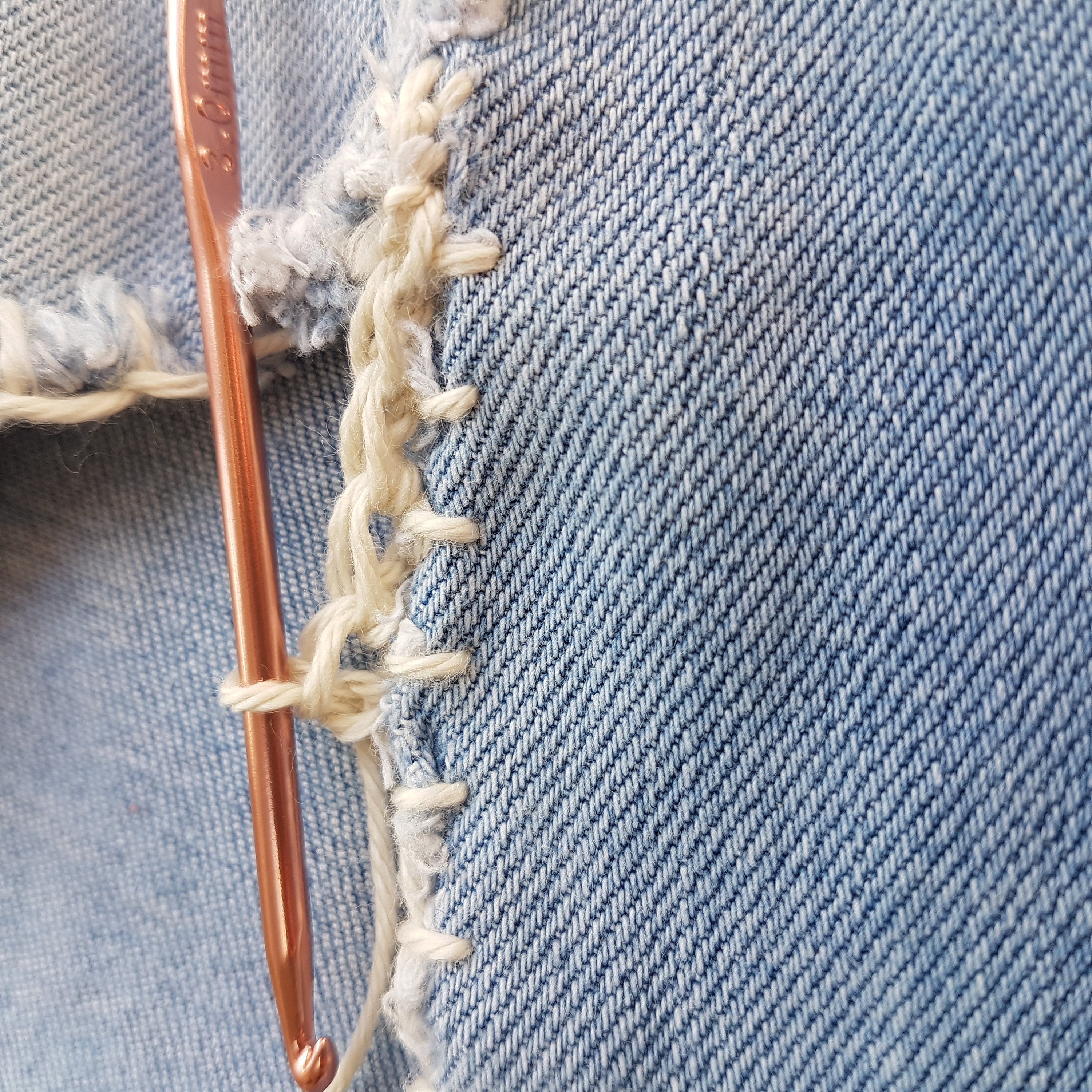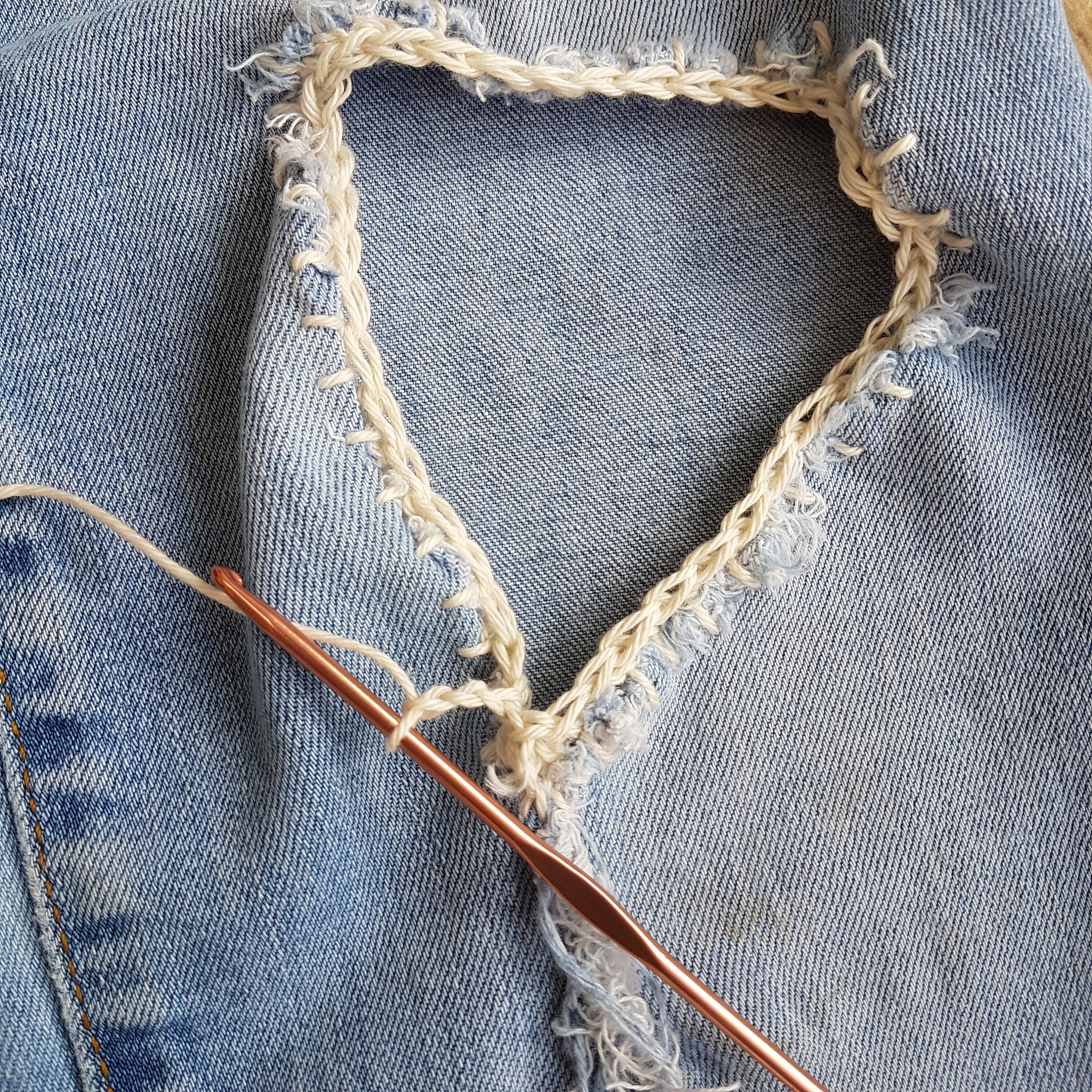 Once you have dc'd around, ch 3 up, skip 2 (or 3 depending on preference) sts, 3 tr in next st along (just like a granny square), ch3, skip 2 sts, 3tr, repeat this around. ss into the top of your ch3 to join.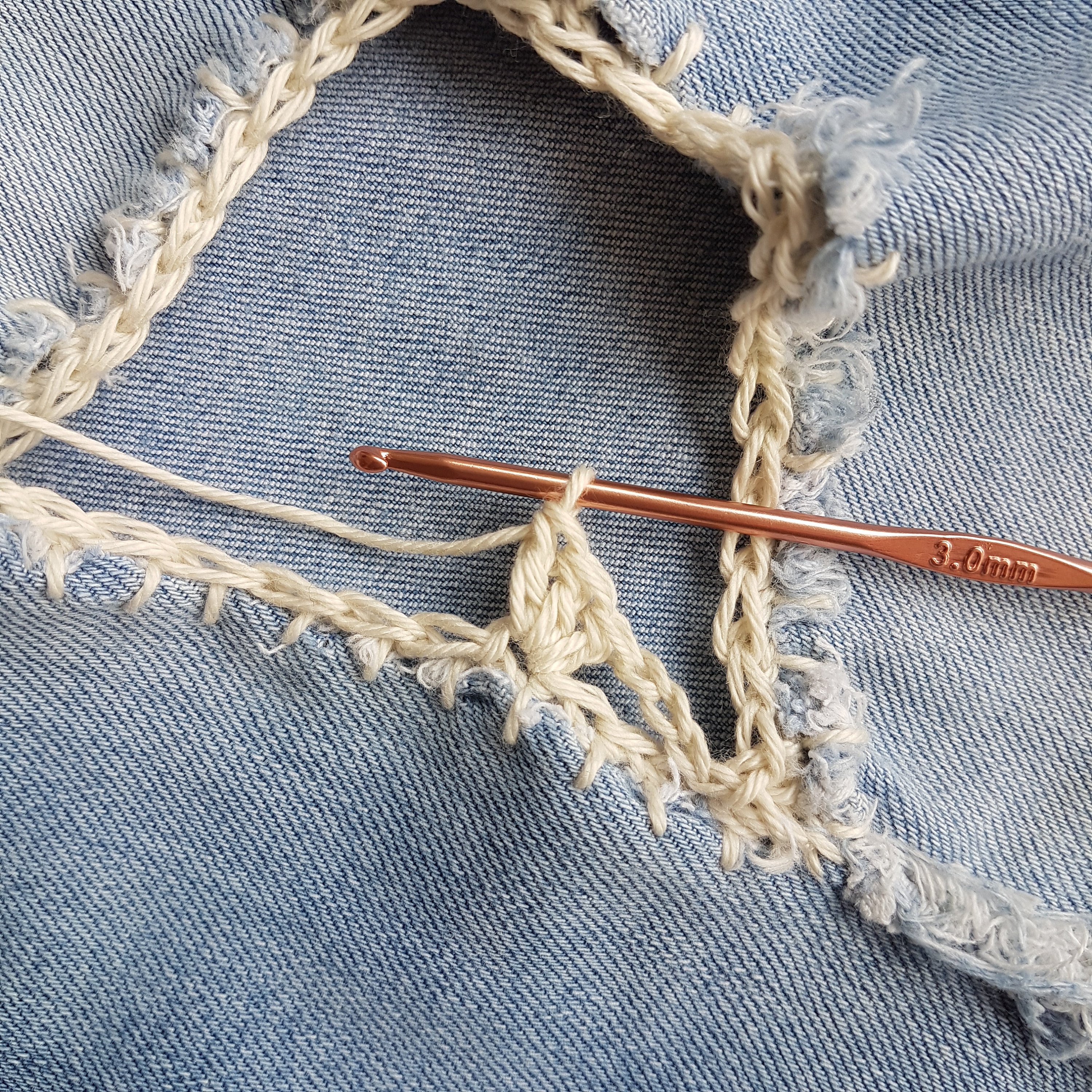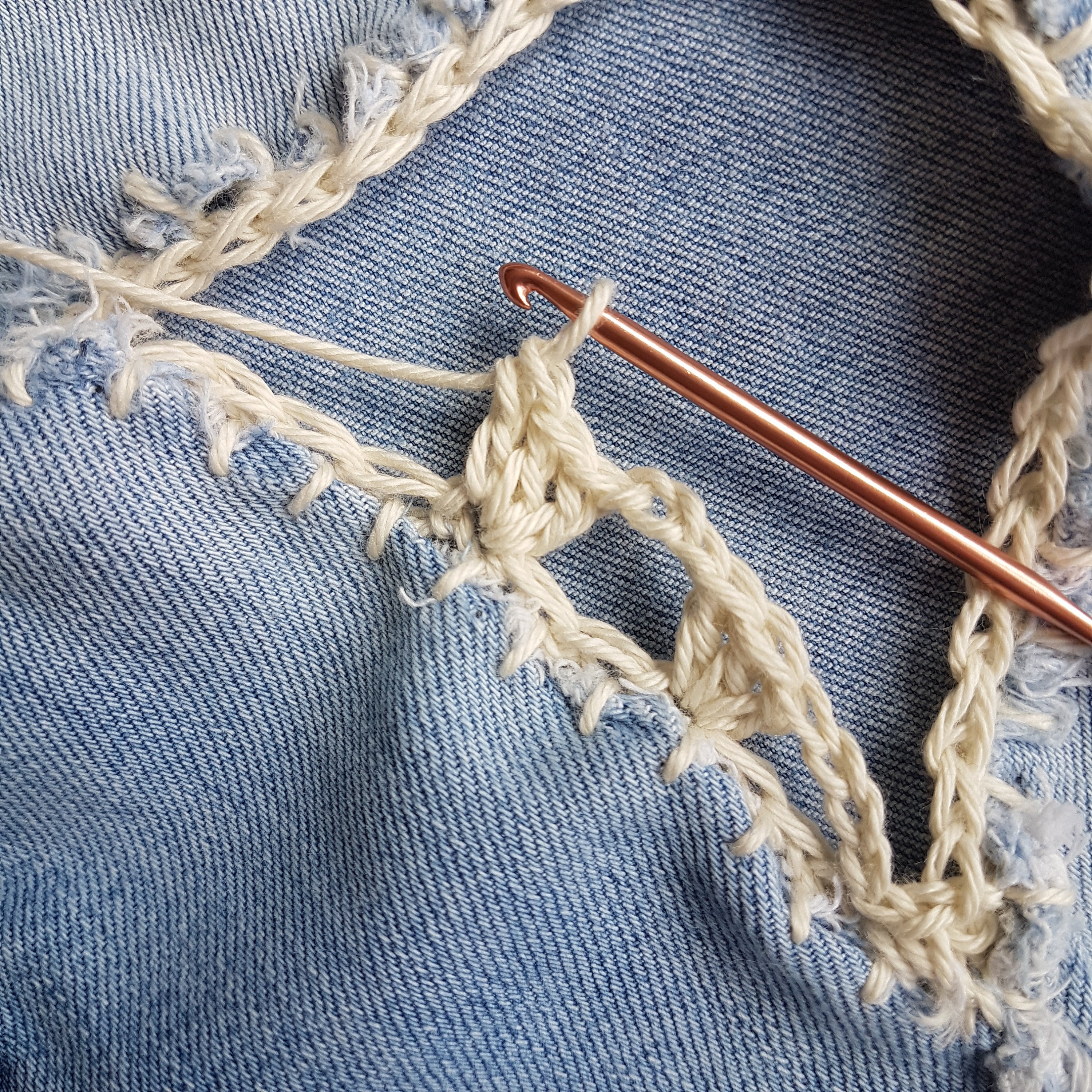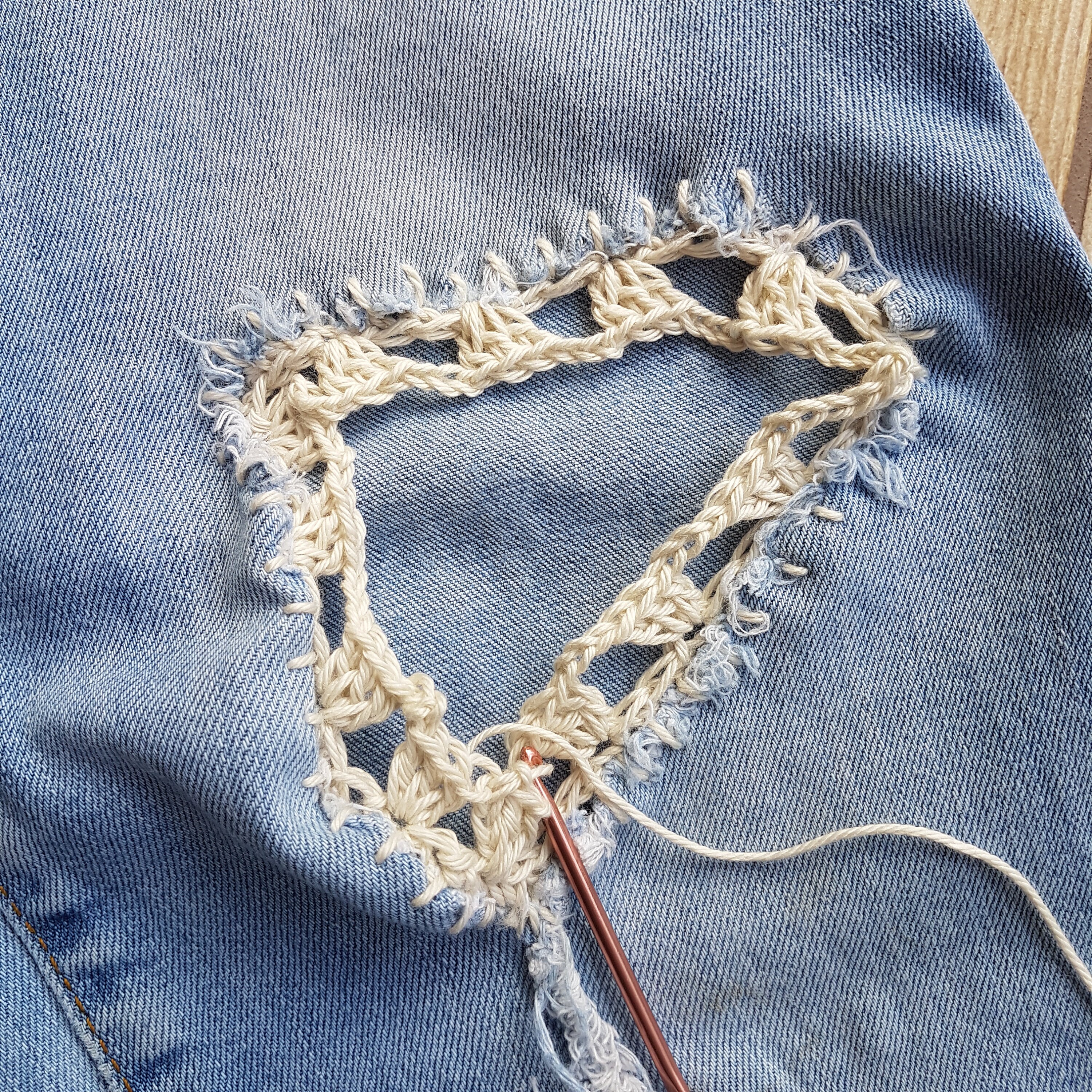 ch3, for the next round you will want to close the hole up. Work 1 or 2 tr in each ch 3 gap. You may not need to chain between your tr sts, it really depends on the size of your hole. On this round I chained only a few times between sts, the rest of the time I jumped straight into the next ch3 gap.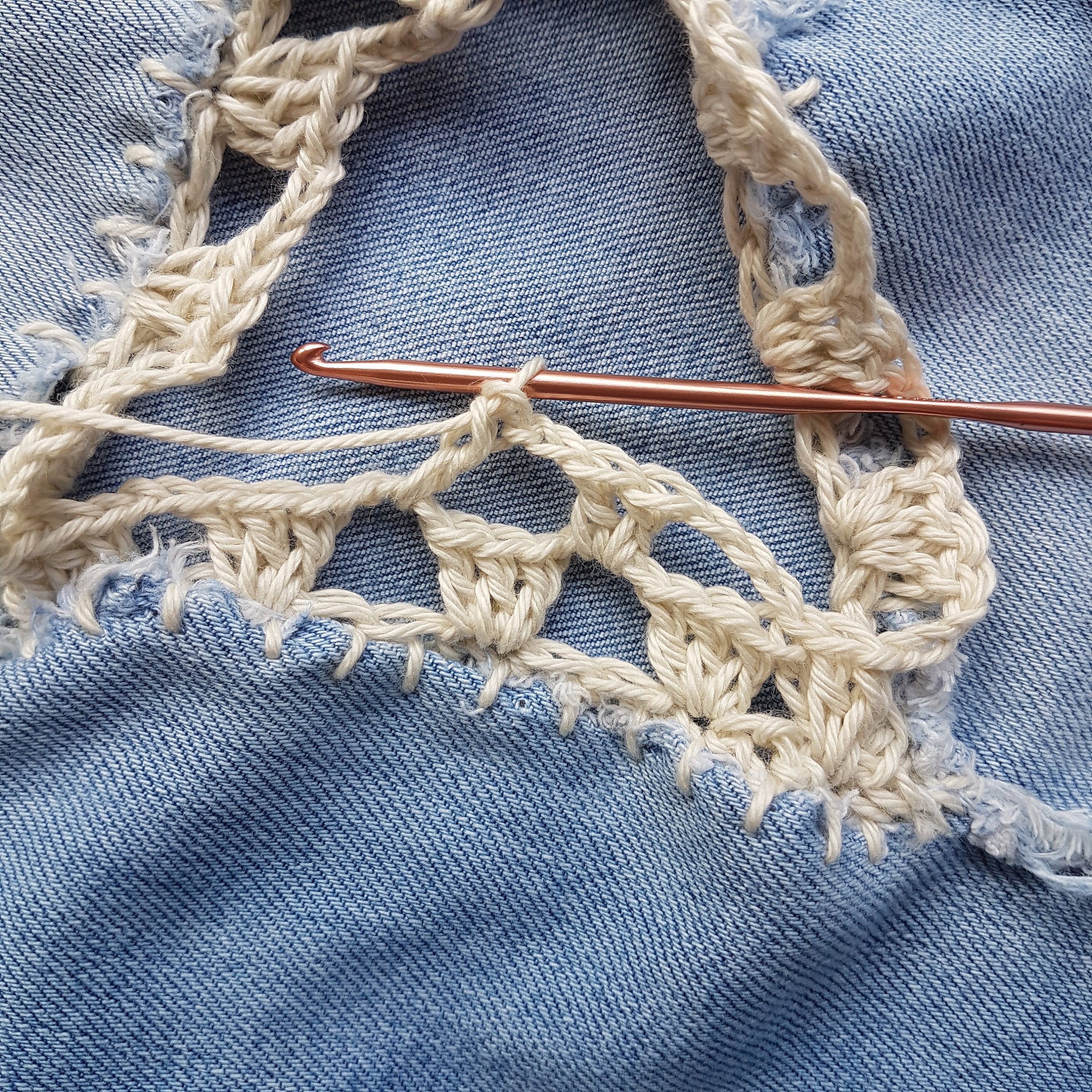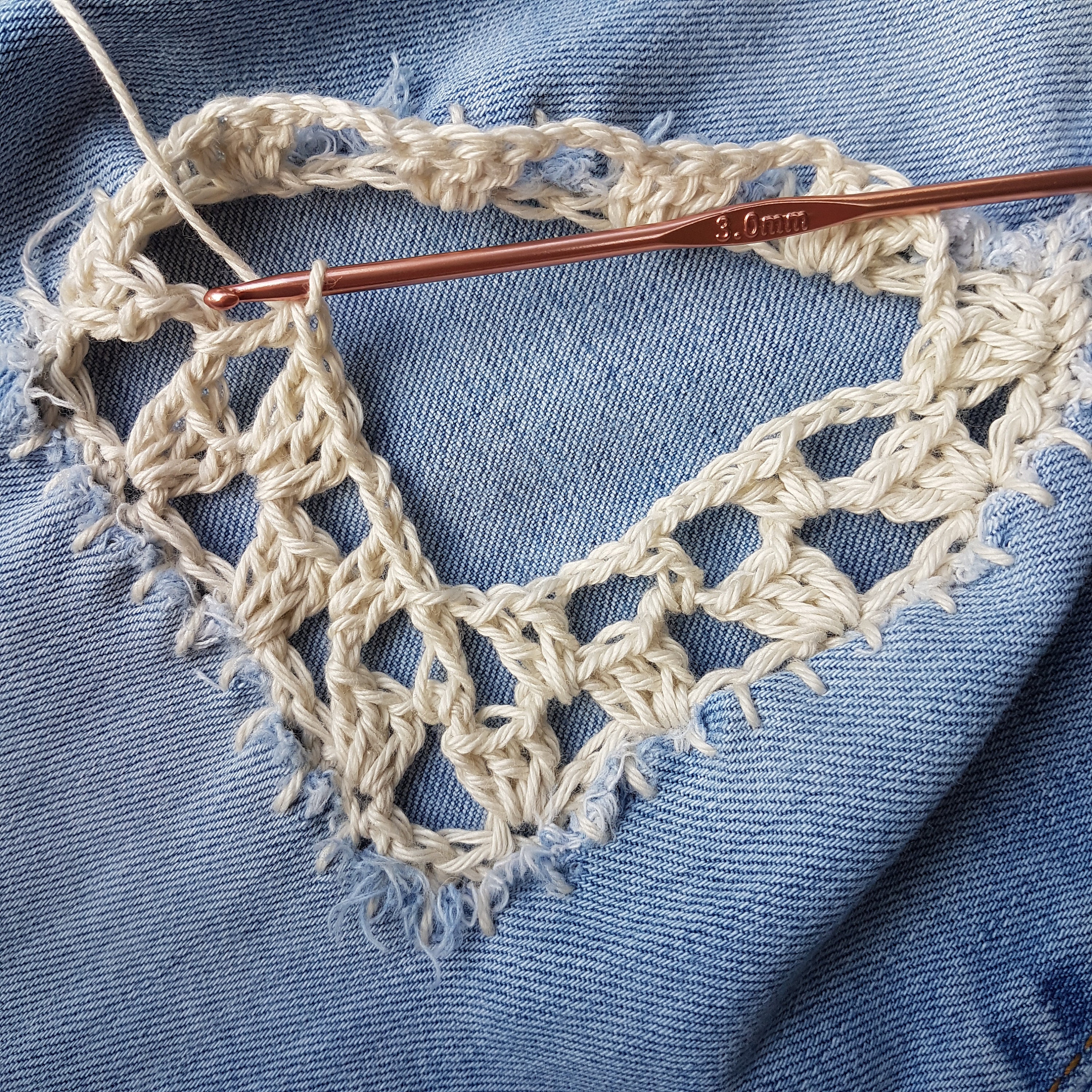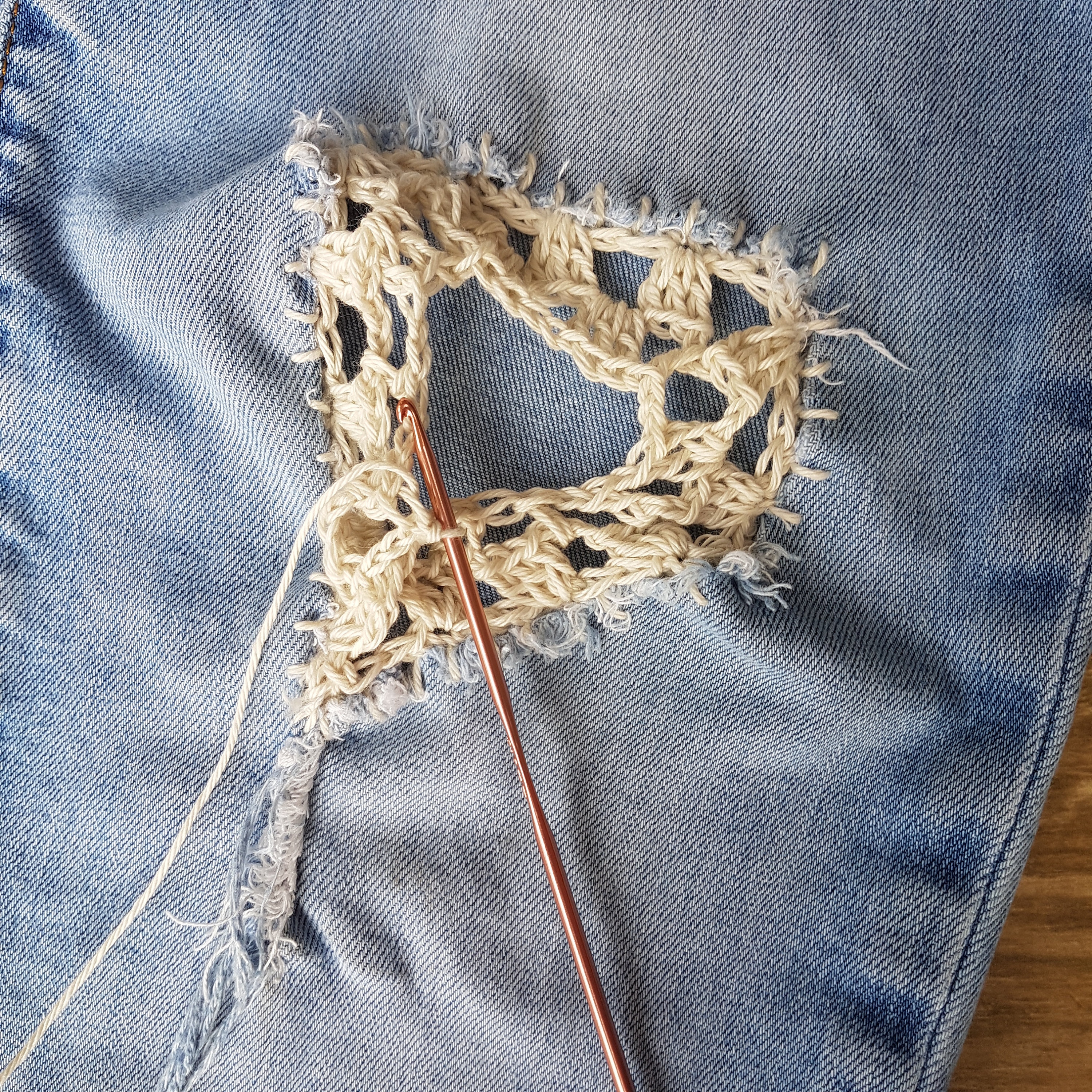 The next round is about bringing the hole together, do not chain between sts on this round. Try decreasing your stitches between gaps. This is where you may need to play around a bit with chucking in a treble st here and there, don't worry about it being neat, it looks better irregular x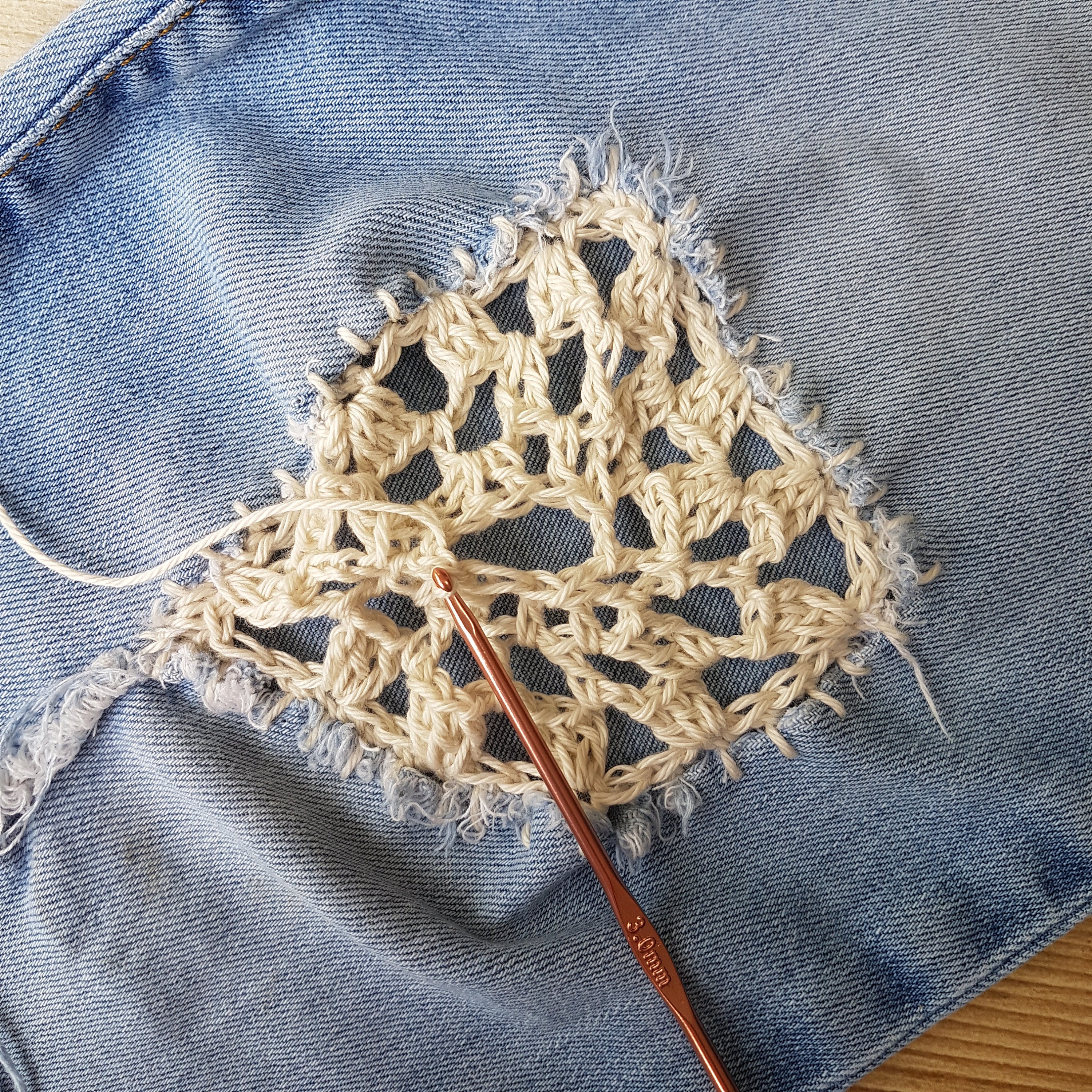 Now to bring the whole thing to a close, ch2, ss into a space between tr's, ch2, ss across the hole to another space, repeat a couple more times till you are happy with the result. cast off and weave in the end.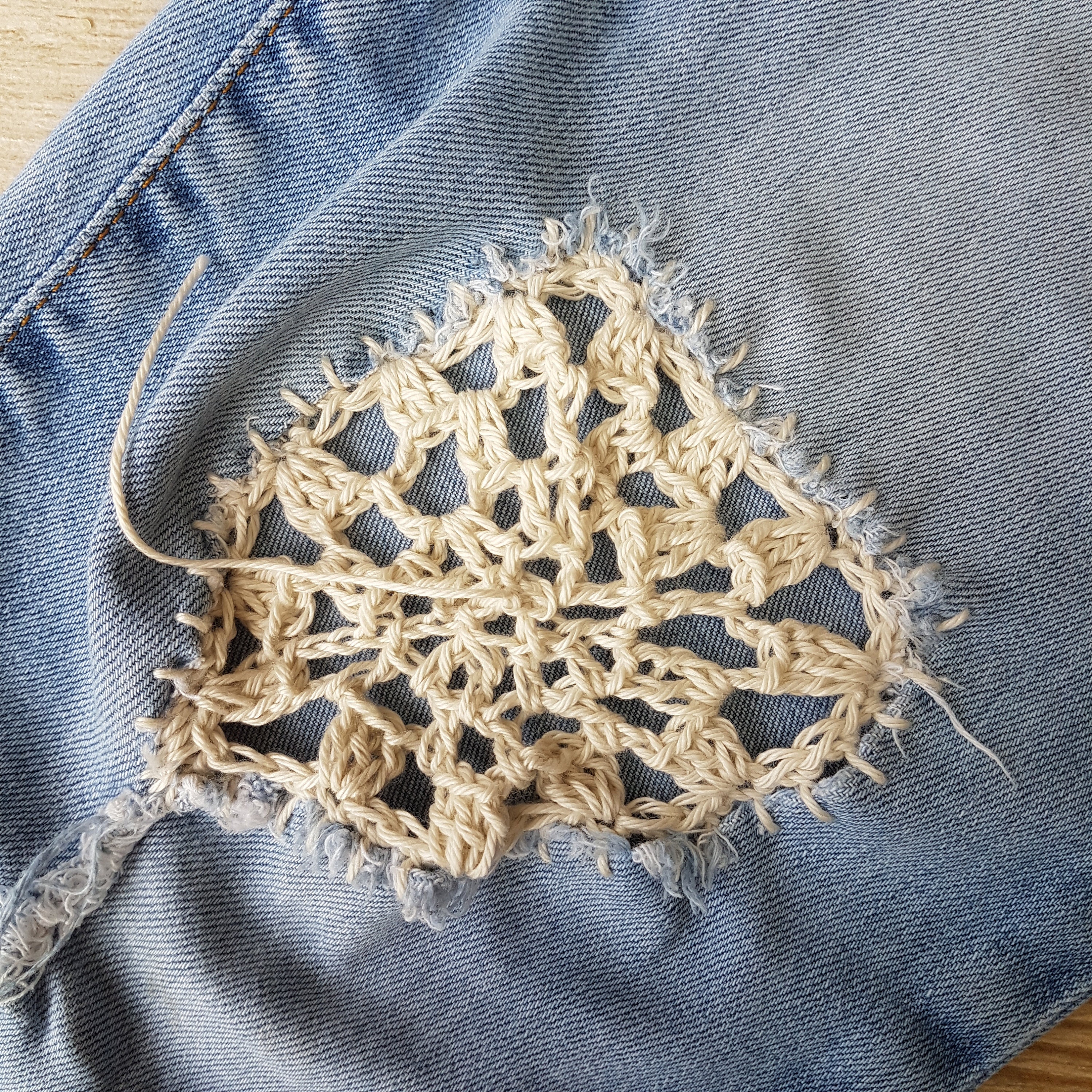 you want your patch to lay flat and not be puling the sides together. You might have to have a little play around to get the desired effect. I hope you found this helpful. 
Lets get spring ready, love and snogs.
Emily