Make.E Indan Summer Bag Charm  Tutorial and Pattern 
Amended: 21st May 2019.. I have decided to give this cool and quick little pattern a clean up and add some better step by step pictures to show you exactly how you can create some boho style for your home or your wardrobe. Ever since making these bag charms I always thought they would look stunning as bunting or even sewn onto a parasole for super chic boho vibes. I originally made the chrms using brights with colour changes, however you really don't need to change colours for impact, they look equally gorgeous in one colour.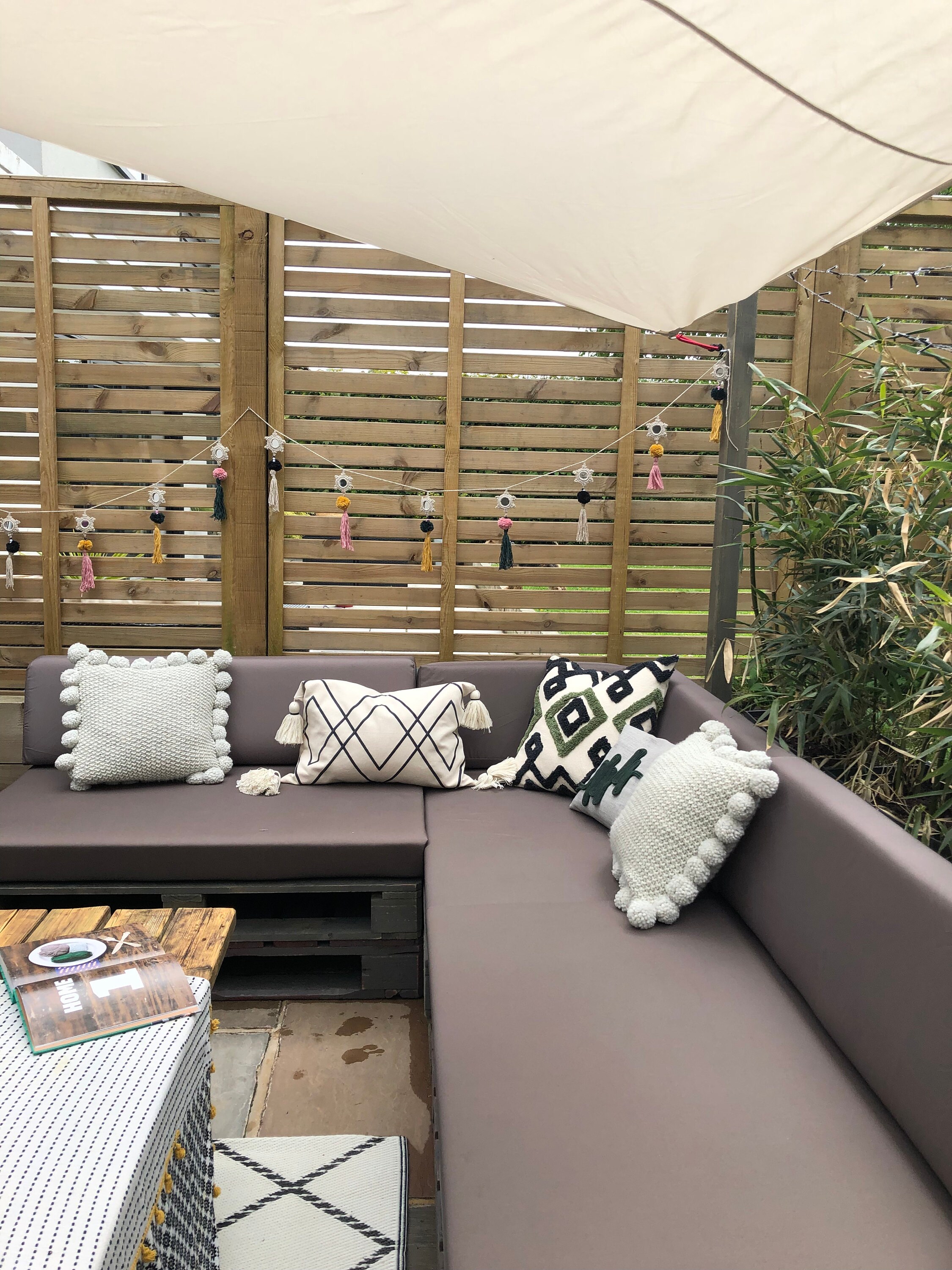 For those of you wonderful lot who follow me in instagram you will have heard me mention that I would make this charm pattern available for free, and true to my word here it is, you lucky lucky lot. This pattern was destined for great things but such is life it wasn't meant to be. It could have been postponed for release later in the year but as it's such a summery pattern I really wanted you all to see it and be able to make it now. Then with everything that happened earlier this week in Manchester I felt compeled to do something positive, and in my small way this is what I can do, and I hope that it helps bring smiles to faces and adds a little brightness to our world.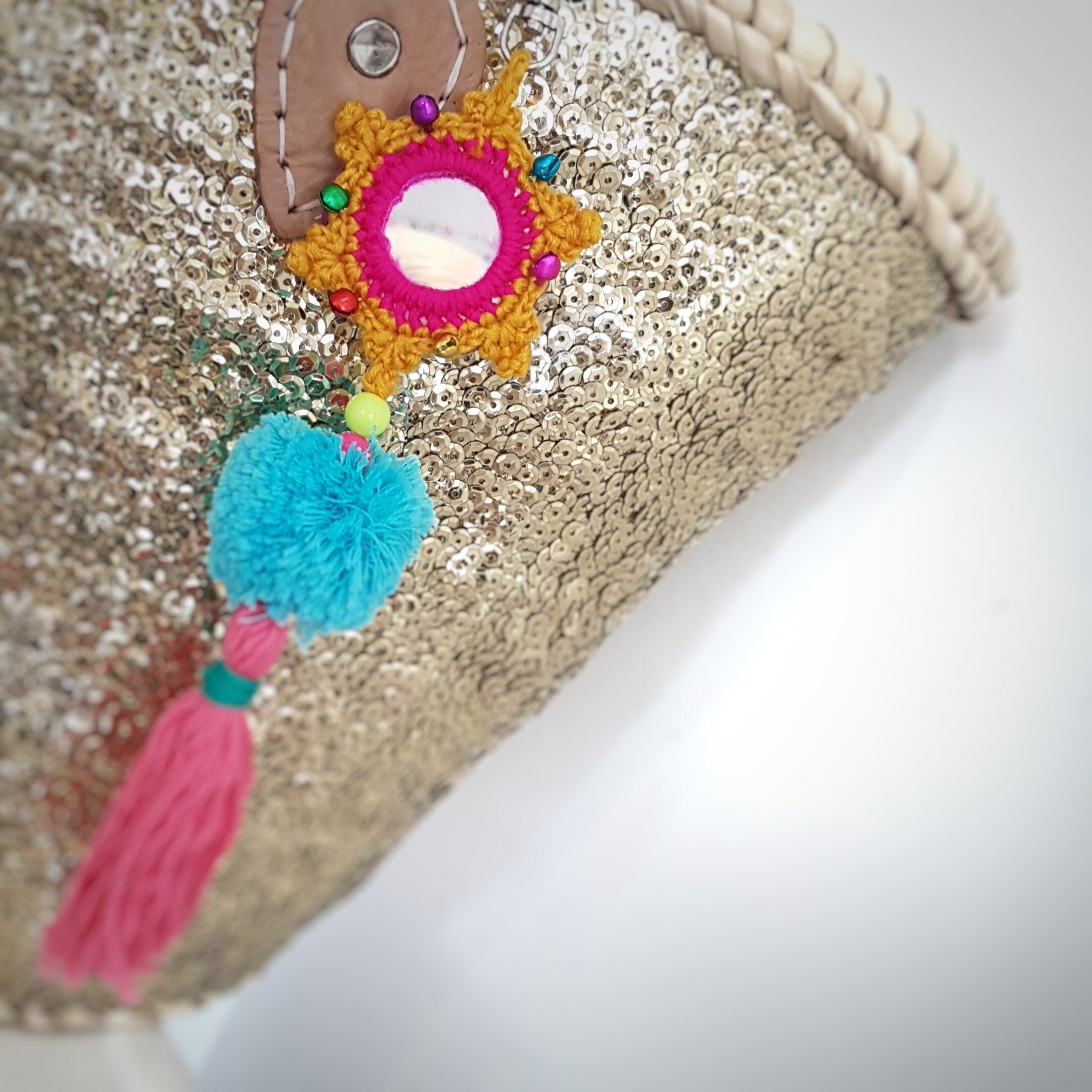 So let's get started. I know this pattern requires some extras that may not be sat waiting in your craft stash, please don't feel you need to follow this pattern to the letter, swap out the mirror for a photo or pretty printed paper glued on stiff card cut to 4cm diameter circle. A lobster clasp isn't essential either, sew or tie your charm onto anything you want to brighten up, what about the corners of a parasol or off the ends of bunting (see my previous blog post for granny bunting pattern)
You will need: 
Rico Cotton dk: A,B,C,D and E  - AMENDMENT - any cotton DK weight will work, you may need to ajust the pattern slightly but I'll add that in notes.
Size 3 hook. 
4cm diameter mirror disc - available from ebay (TOP TIP remember to remove protective film before you start this project) 
Pompom maker or fork
Thick card or book to make tassles
Plastic beads (optional)
Tiny coloured bells (optional)
Needle and thread   
Abbreviations  - THIS PATTERN USES UK CROCHET TERMS.
ML = Magic loop
ch - chain
Dc = double crochet  (US - single crochet)
Htr = half treble (US Half double crochet)
St/Sts = stitch / stitches 
Ss = slip stitch   
Cleff -  ch 3, ss into same st, ch 6, ss into same st, ch 3, ss into same st (to make a cleff)*
BACK: COLOUR A 
You are making a disk slightly larger than your mirrored disk, you need to be able to see the top of the stitches peeping out from the mirror disk, but not the whole stitch.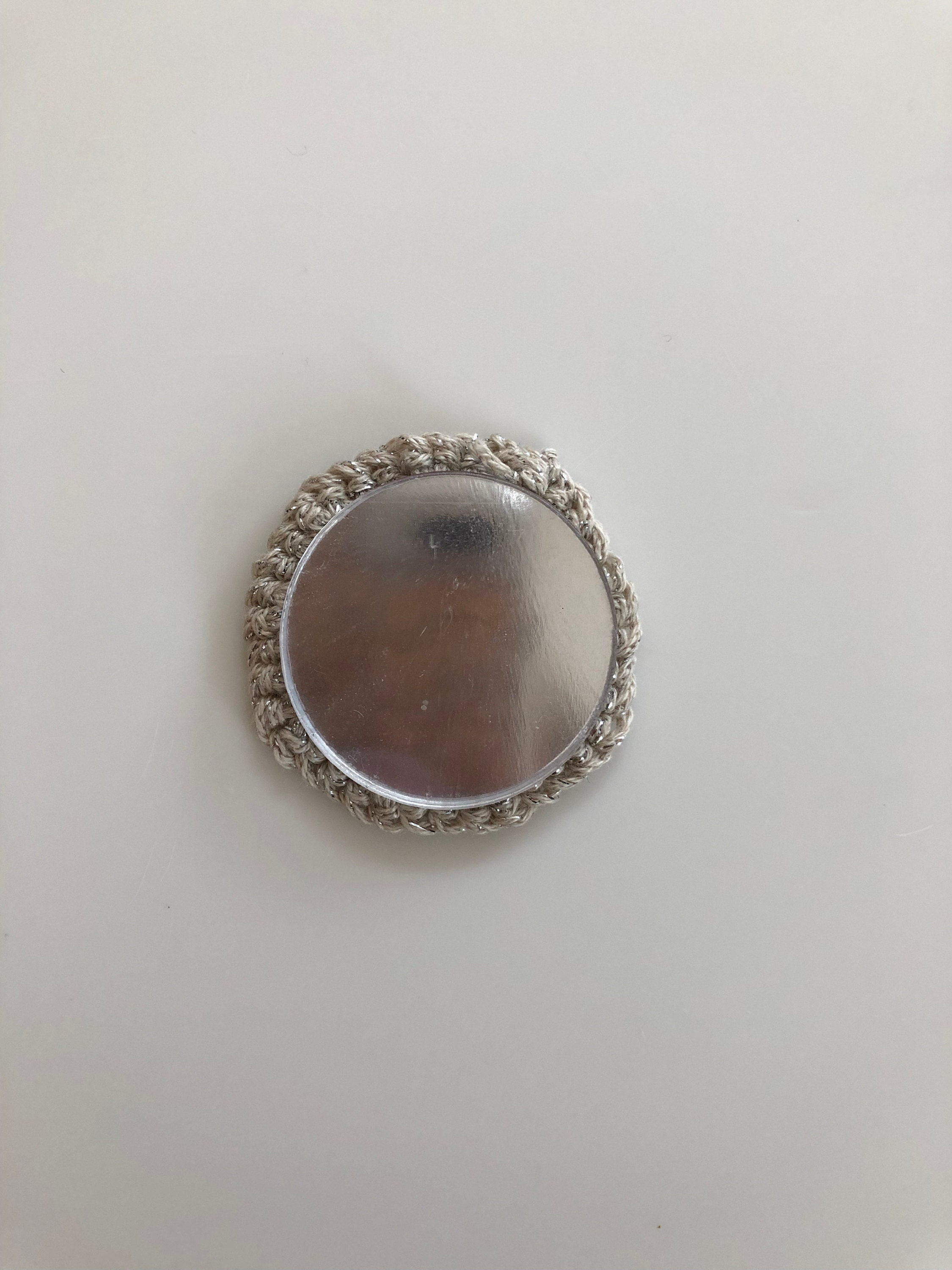 Round 1: ML, ch to secure,ch1, 9dc into the loop ss to join. (9sts) 
Round 2: ch 1, 2 dc into each st around, ss to join (18 sts) 
Round 3: ch1, *(2 htr, 1 htr) repeat* around ss to join (27 sts) 
AMENDMENT - In round 3 if you find your finished circle comes up too large maybe due to slightly thicker yarn then change the htr crochets to double crochet sts.
Round 4: ch 1 *(2dc, 1dc, 1dc) repeat * around, ss to join (36 sts)   
FRONT: COLOUR B 
Round 1: ch 20, ss into 1st ch to join to make a loop. AMENDMENT - if yu know your yarn is slightly thicker then only ch 17.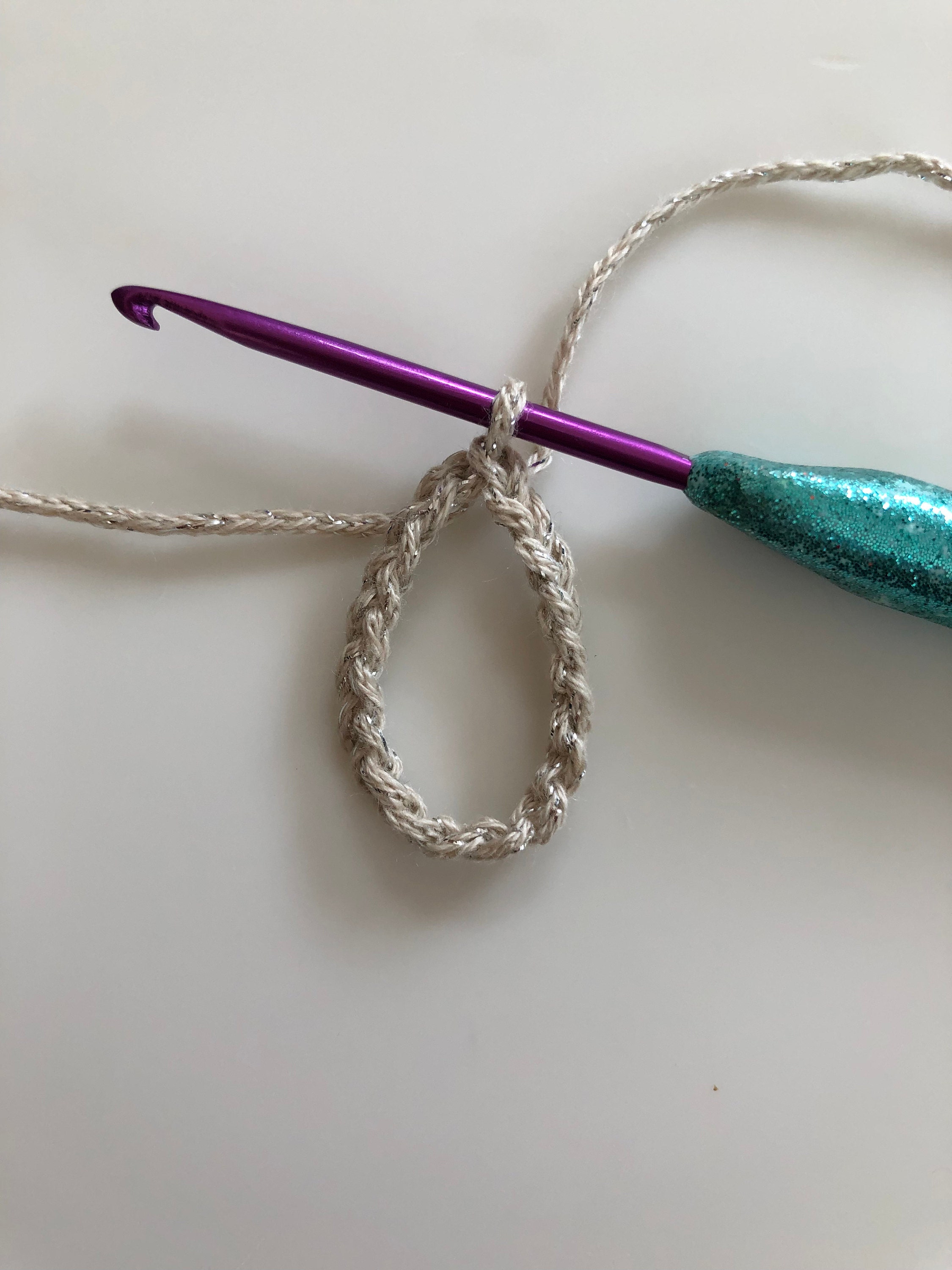 Round 2: 27dc into loop (NOT STITCHES)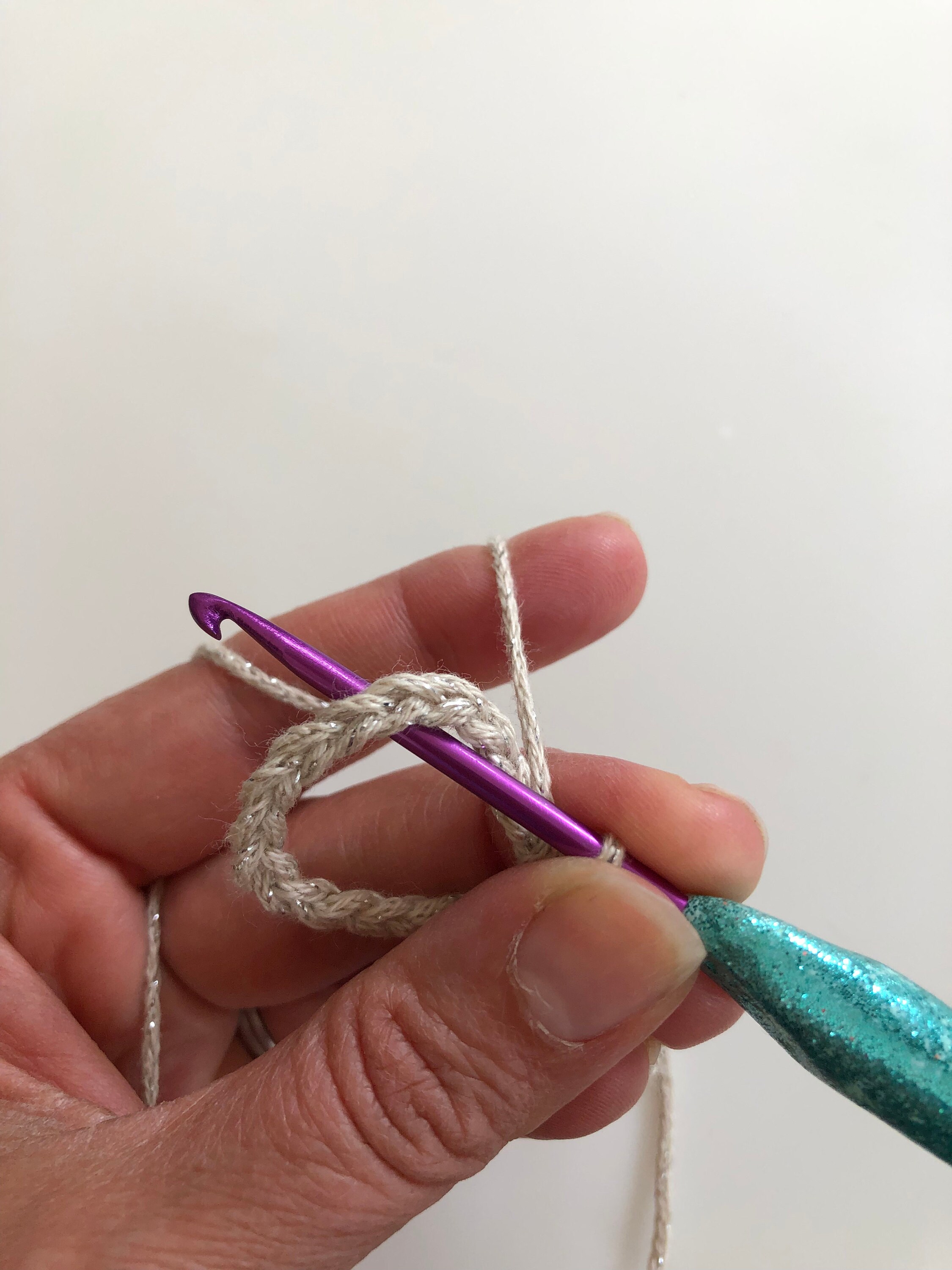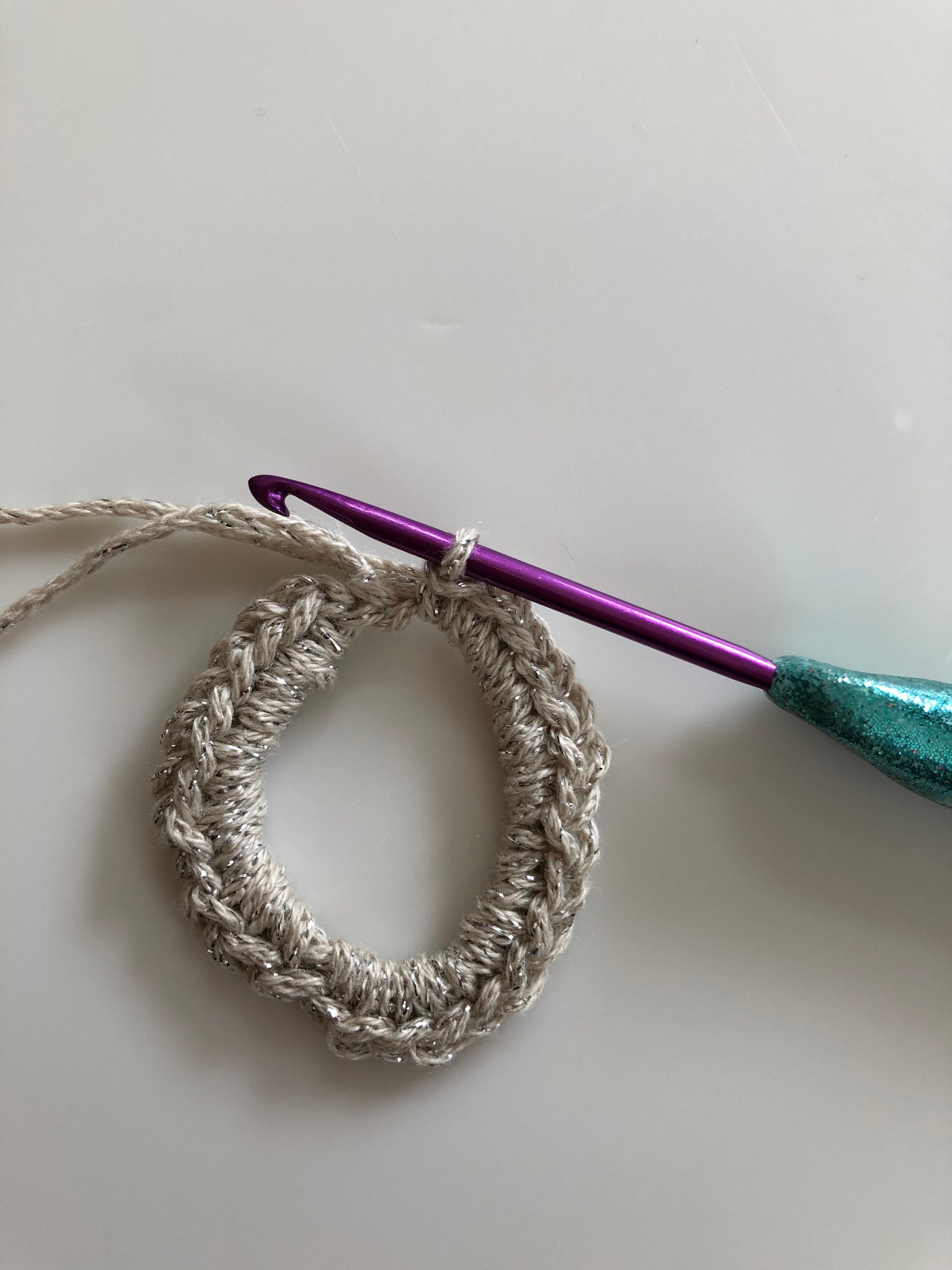 Round 3: attach COLOUR C, *(2dc, 1dc, 1dc) repeat * around, ss to join (36 sts)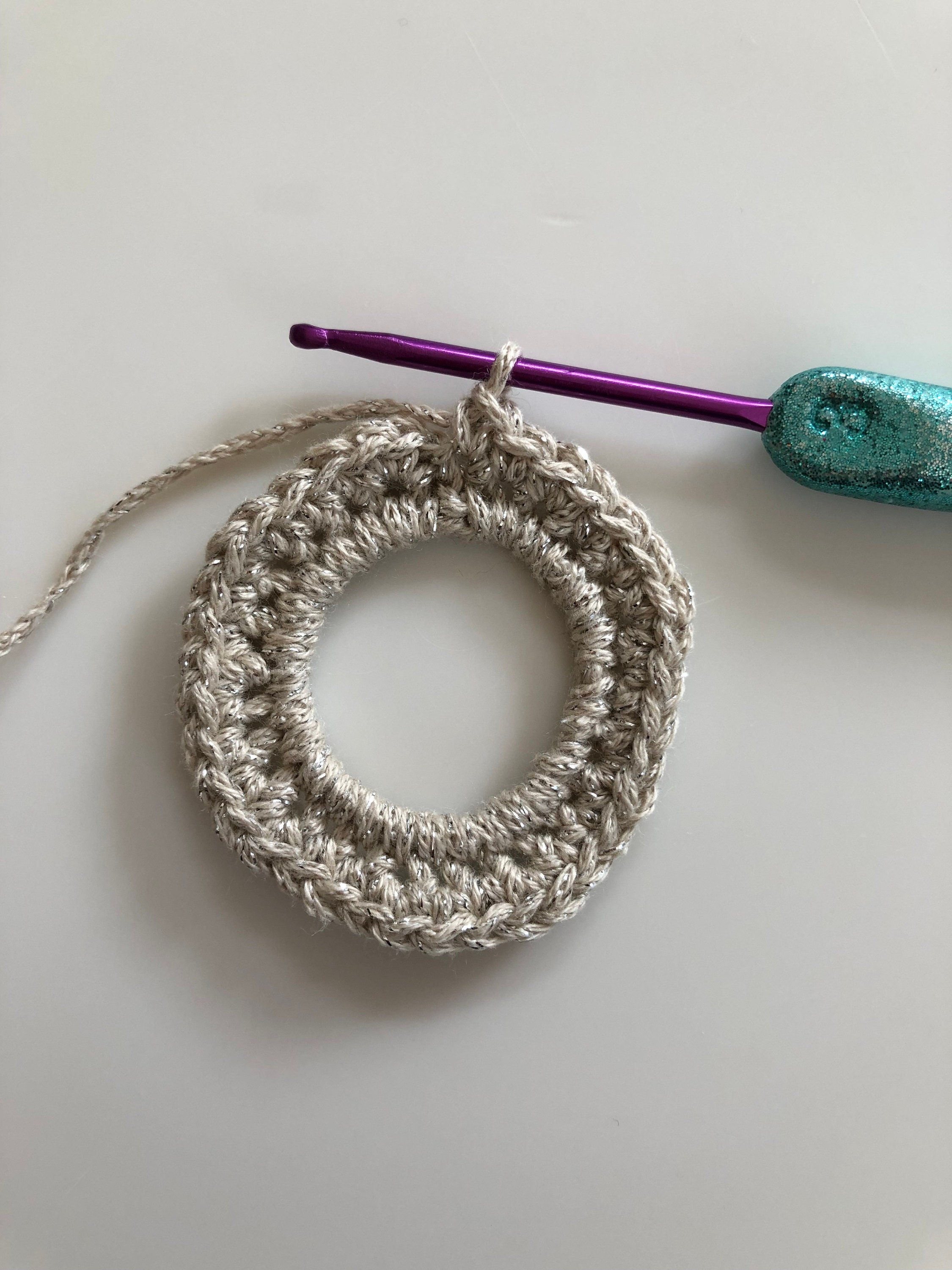 Round 4: with BACK and Front (wrong sides together) line up stitches. (note in the images I have not worked the front and back together - this is just a cleff st tutorial - you will be working your stitchs through both the front and back of the charm) Slip stitching front and back together,
* SS into next 6 sts, ch 3, ss into same st, ch 6, ss into same st, ch 3, ss into same st (to make a cleff)*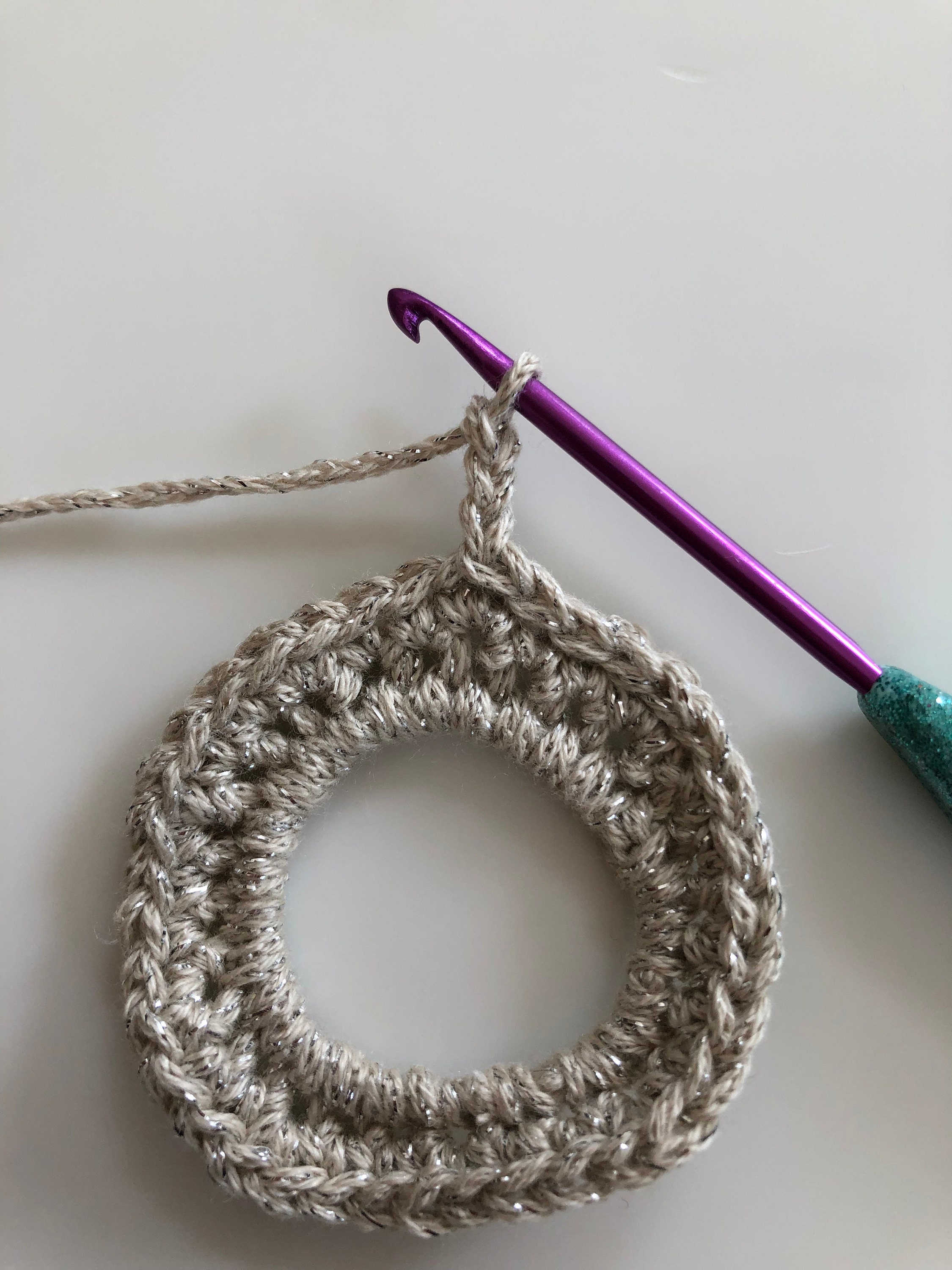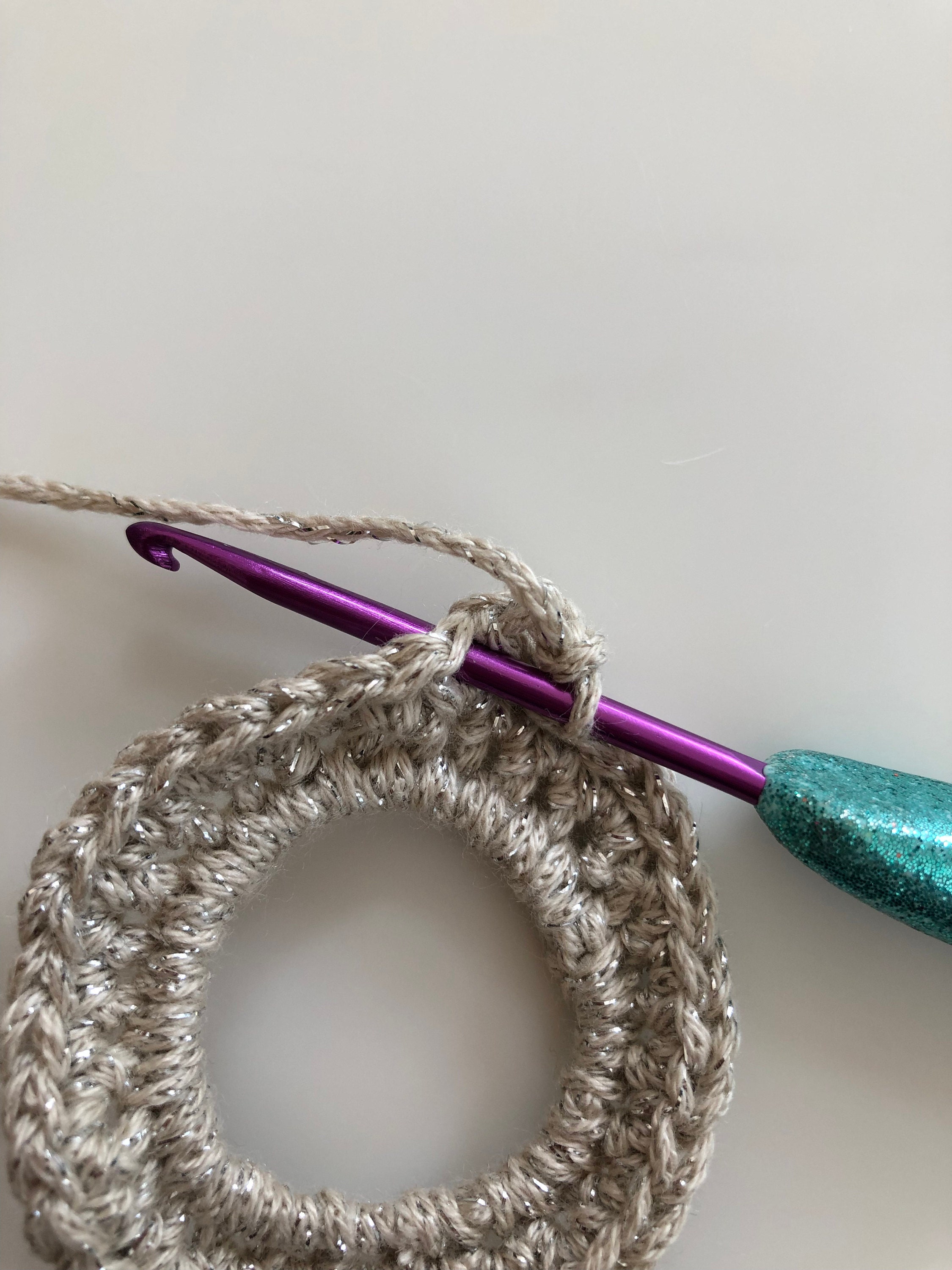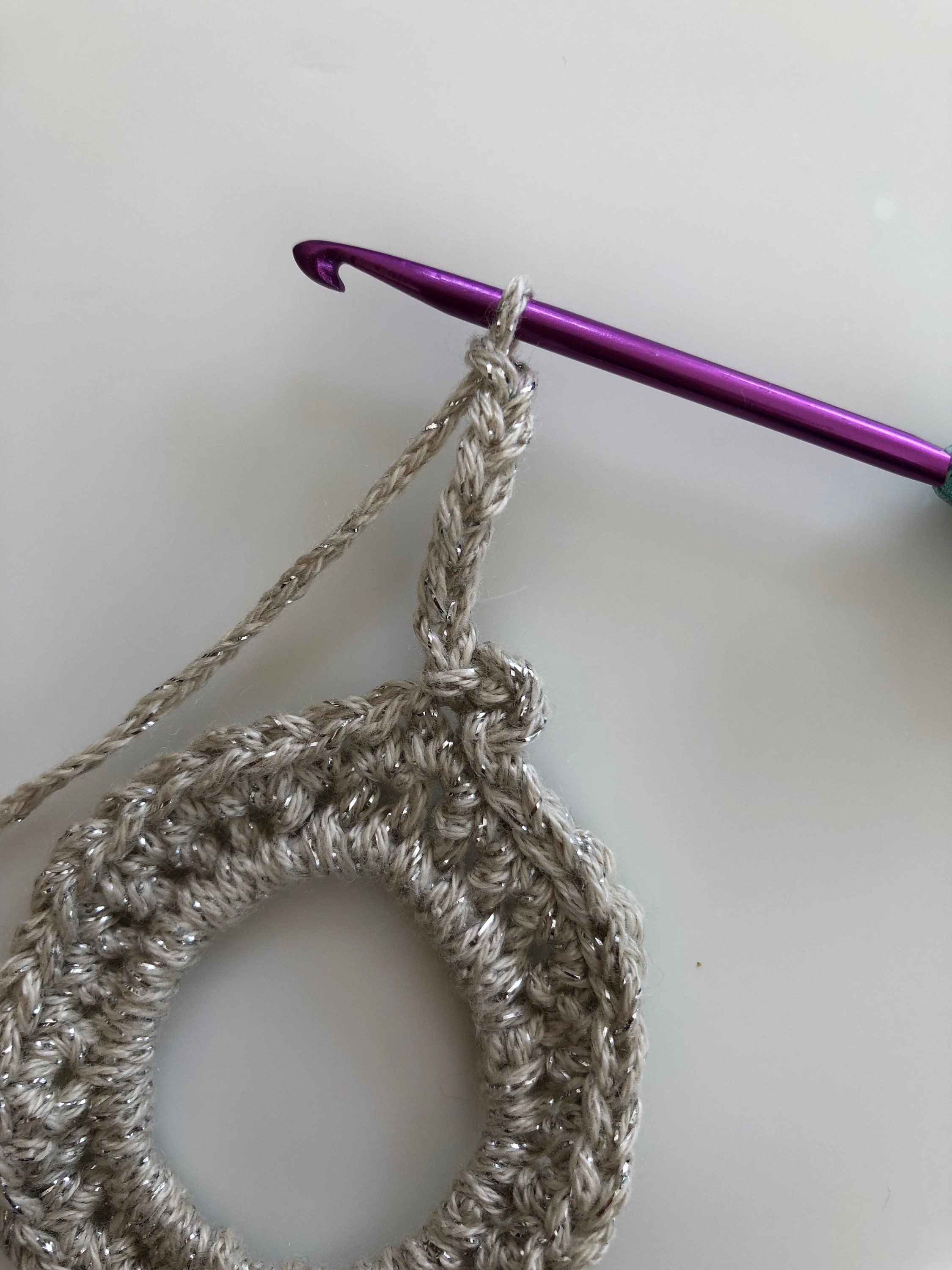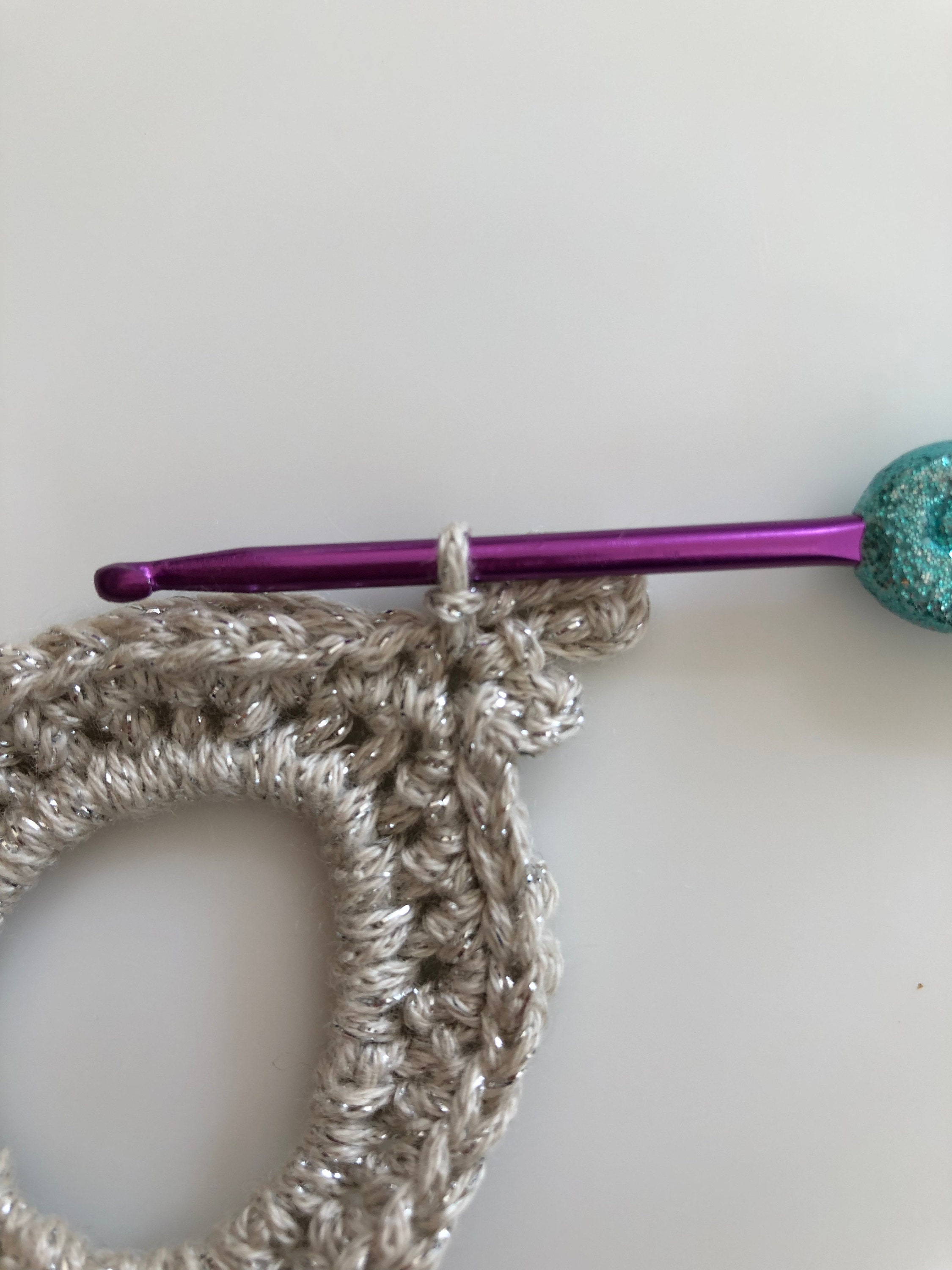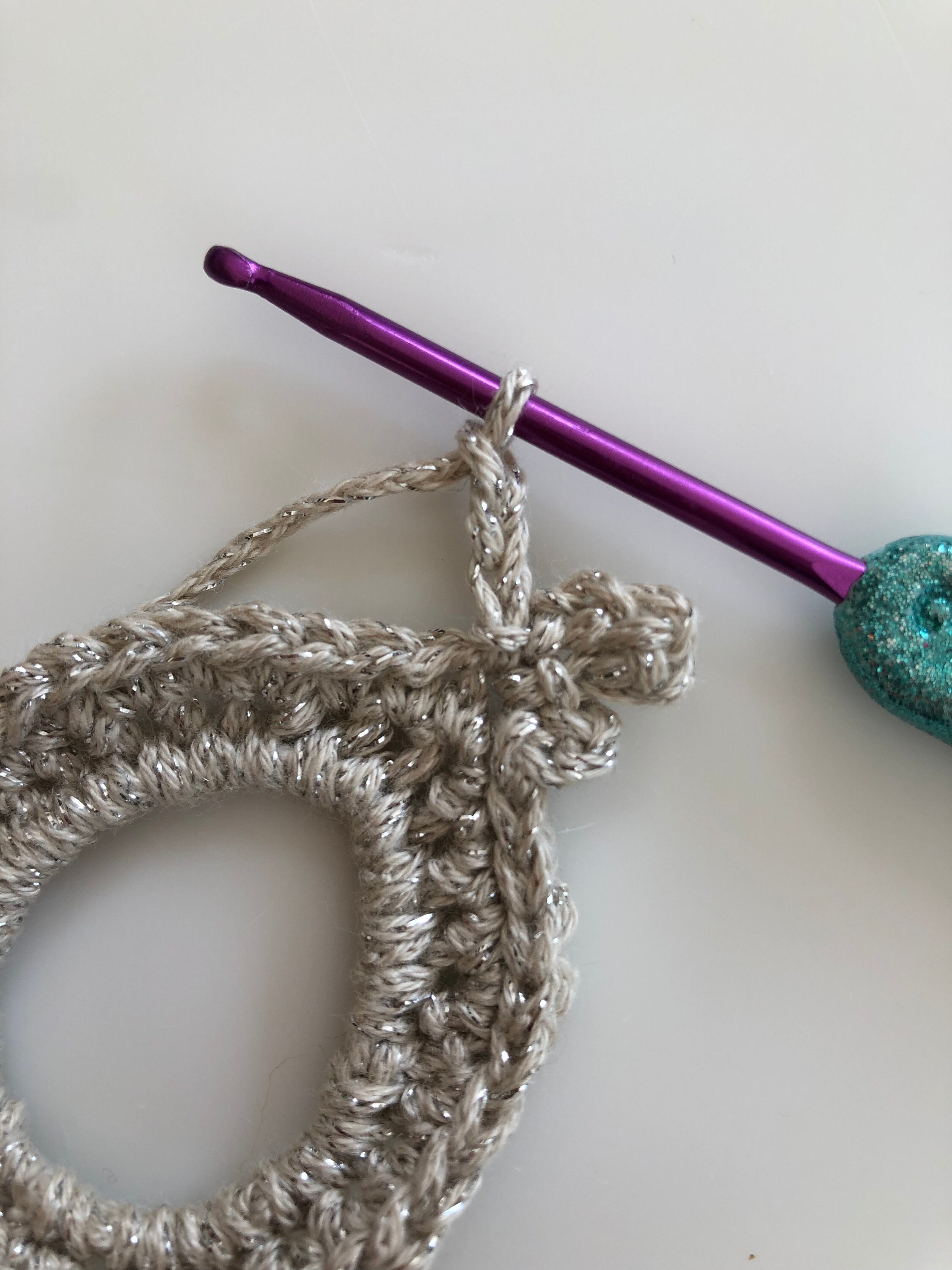 insert mirror between front and back, continue to work sandwiching the mirror between the front and back as you go. Repeat from * 4 more times, you will now have 5 clef shapes. 
MAKING A BAG CHARM/KEYRING:
SS into next 6 sts, ch 3, ss into next st, ch 6, CUT WORKING YARN APROX 45 CM FROM HOOK to allow to finish the round. Thread the end of yarn through bag clasp,take hook out of wrk and thread clasp onto ch, re insert hook, ss into same st, ch 3, ss into same st, cast off and weave in ends. 
MAKING BUNTING:
ss in last 6 sts,  ch 3, ss into same st, ch 6, ss into same st, ch 3, ss into same st (to make a cleff)* cast off and weave in the ends.
Make as many mirror charms as you like fo your bunting. 
To string your bunting:
Ch 60, *ss into top of ch6 cleff on charm, ch 40**, repeat from * - ** untill you have attached all your charms, ch60 and fasten off.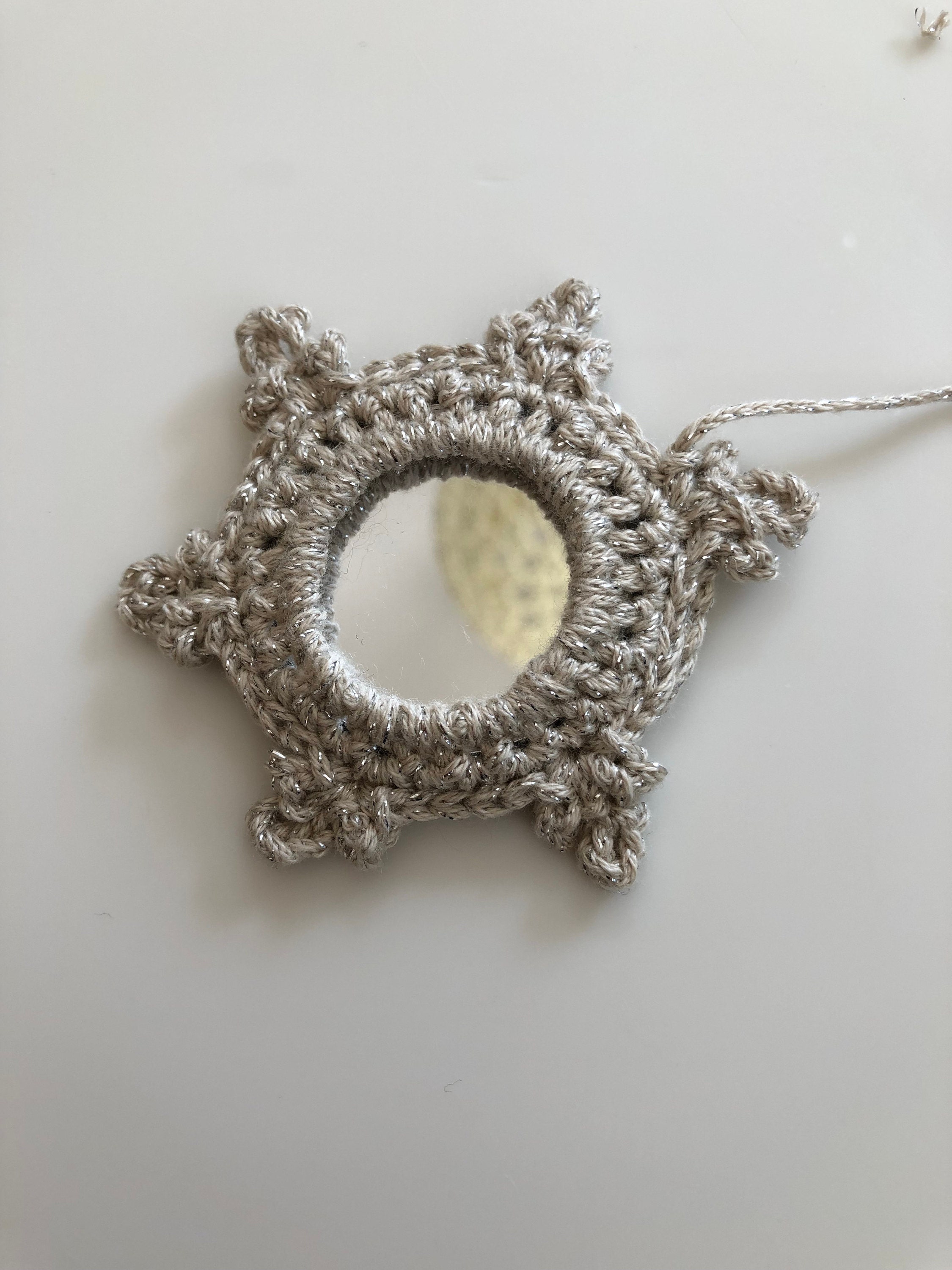 Added detail:  
Make a pompom in COLOUR D: 
Leave ends long enough to secure pompom onto the ch 6 opposite the bag clasp. Thread beads onto both lengths of yarn before tying onto the bag charm. 
Make a tassel using COLORS E & F: 
1. Cut a piece of thick cardboard about 10cm long.  
2. Wrap yarn around cardboard 20-30 times. 
3. Thread tapestry needle with 30cm of yarn and tie top of tassel tightly. Remove needle, leaving tie to attach to work ch6. 
4. Cut ends of yarn and remove from cardboard. 
5. Thread tapestry needle with 30cm of yarn and wrap around tassel 6–10 times, snugly. Tie knot in wrap yarn and bury end inside tassel. 
6. Trim tassel ends evenly. 
7. Attach to bottom of pompom.   
Finally, sew on the tiny bells where ever you feel like, and by jingle you are done!.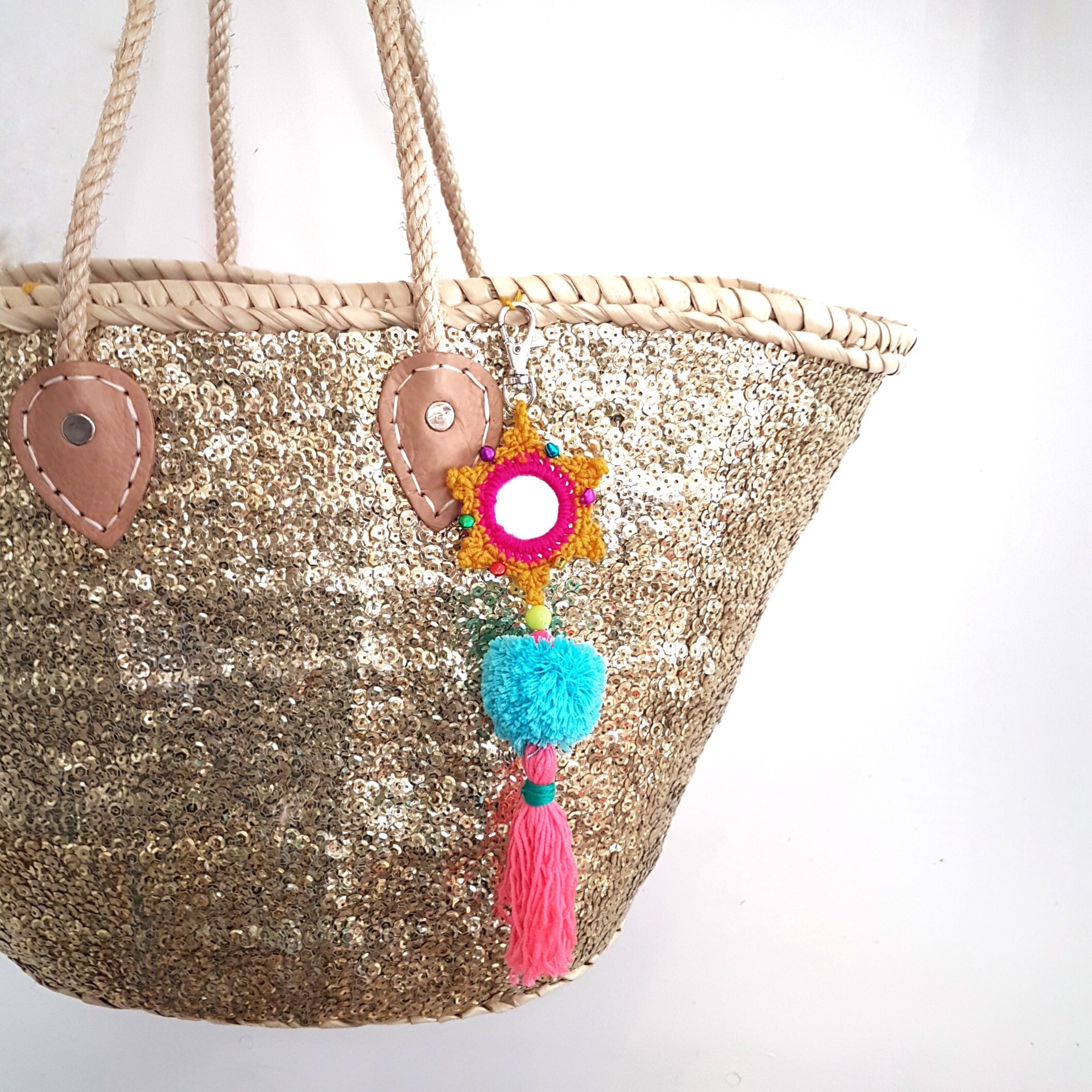 Remember to tag me in your makes using #makeemakes I love to see your versions. Crappy small print...This pattern is NOT for re-sale and can not be used for make to sell without getting permision first. Please credit the designer, thank you.